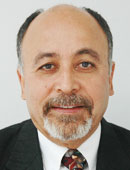 Professor Ahmad Hosseini, Dean of School of Business and Entrepreneurship (SBE), holds a PhD in Accounting with minors in Economics and Management from the University of Missouri, Columbia (1981).
Prof Hosseini obtained a Master's degree in Accounting from Ball State University in Indiana (1975) and a Bachelor's degree in Accounting from the Institute of Advanced Accounting in Iran (1972). He is a Certified Public Accountant (CPA Michigan, 1986).
Professor Hosseini was the pioneer Dean of SBE and Professor of Accounting at AUN in June 2005. Prior to this position, he served as Chairman and Managing Director of the Center for Professional Research in Accounting & Auditing (FASB) Iran, his home country, in 1981 and simultaneously as Assistant Professor of Accounting, University of Toledo, Ohio. Earlier in 1983, Prof Hosseini was appointed Chair and Associate Professor, Accounting in the University of Detroit. In 1990, he served as the Coordinator of Accounting Program/Professor of Accounting in the School of Business and Economics, Sonoma State University and was promoted to Dean and Professor of Accounting in 1999, before he joined AUN to establish the School of Business & Entrepreneurship. At the end of his service in AUN, Ahmad served as Director of Certificate of Advanced Accounting Proficiency & Adjunct Professor of Accounting at the Levey School of Business, Santa Clara University in 2007, where he also served at the National University, La Jolla, California as Dean and Professor of Accounting. Dr. Ahmad was also Professor of Accounting at the Gulf University of Science & Technology, Kuwait in 2010. Currently, Professor Hosseini is Dean Emeritus at the Sonoma State University.
Professor Hosseini has served as Visiting Professor of Accounting in several universities, including University of Bangkok, Thailand, American University of Armenia, International University of Monaco, University of Hawaii and Tehran University in Iran. 
His productive research and scholarly activities have contributed to the profession of accounting nationally and internationally. His research capabilities are well evidenced by his records of refereed journal articles and scholarly presentations at regional, national, and international conferences in the United States and other major industrial countries. He has been involved with national and international professional organizations. He served as the president of the Western Region of the American Accounting Association. He also served as a National Council Member of the American Accounting Association, member of a California State university Task Force to improve the productivity in higher education, and the chapter president of National Association of Accountants.