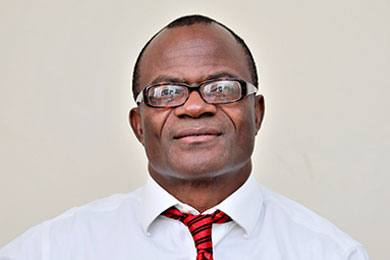 Prof. Mathias Fonkam is Dean and Associate Professor of Computing for the School of IT & Computing (SITC). He holds a PhD in Computer Science, an MSc in Systems Engineering and a BSc in Computer Systems, all obtained from Cardiff University, UK, 1993, 1988 and 1987 respectively. 

He joined AUN in Jan 2006 after a distinguished international career both in academia and the Silicon Valley software industry in California. His prior academic experience spans 3 universities: as a Visiting Professor at the Federal University of Maranhao, Sao Luis, Brazil (Oct 1993 to Nov 1997), Visiting Assistant Professor at St Joseph's University in Philadelphia (2002-2004) and Associate Professor at Albany State University, GA (2004-2006). From 1998 to 2002, during the dot com boom, Dr. Fonkam worked in the US Software Industry in the Silicon Valley in various capacities and for a couple of companies: Blue Martini Consulting San Mateo, CA), Millenia Vision (San Jose, CA) and Mosakin Corp (NJ. He returned to academia in 2002 which he regards as his true calling, but he is a big proponent for close links with industry.

Dr. Fonkam joined SITC in Jan 2006 as one of its founding faculty. He has been instrumental in shaping the direction and output for that school and turning SITC into a flagship school at AUN.

As an instructor and researcher he has elaborated and taught well over 16 courses in computing and published several research papers in the area, many of them with his students and faculty colleagues.

He is a big evangelist for a number of problem-solving approaches and technologies: systems thinking and the system dynamics methodology for addressing the growing complexities in an increasingly global economy, the object-oriented and functional programming paradigms, open-source technologies, AI & Big Data, web and mobile technologies.

His principal research interest lies in the application of these approaches and technologies to address some of the challenges that Nigeria and the SSA region face.

He initiated and led the development of the OpenERP system that powers most operations of the university, from admissions through academics, finance and HR to graduation.
The school, under his leadership also deployed and led the use of the Canvas learning management platform (LMS), what serves as the university's knowledge base, the principal teaching and learning platform.  

He has served many other roles in SITC:  SITC curriculum coordinator, chair of the computer science program, interim dean and dean. He also served as the founding Faculty Adviser for the AUN Honors Society. He is the founder of a community and industry systems lab – CISLab that serves as a tech-incubator for joint developments of industry-strength software systems by SITC Faculty/Students on the one hand and industry partners/developers on the other hand.

As dean of SITC, his vision for the school is to lead it to become a center of excellence in ICTs not just in Nigeria but within the entire Sub-Sahara Africa region, serving as a key pillar in AUN's mission as a Development University.