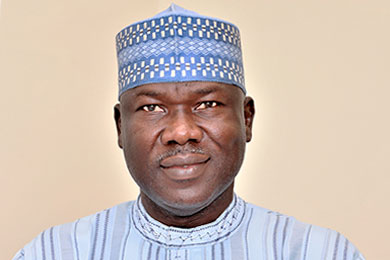 Mr. Abubakar Abba Tahir is currently the Vice President University Relations in charge of coordinating all major AUN events as well as expanding engagement opportunities for students, professors and staff with Gotel Communications and other media bodies. He joined the American University of Nigeria in 2003 as Public Relations Manager charged with the responsibility of founding the Office of University Relations and Admissions departments. He served as Press Advisor to the AUN Planning & Implementation Committees on visibility options for the University and also organized media campaigns for AUN's ground-breaking events in October 2004. In 2005 – 2009, he was appointed as Director Public Affairs in charge of marketing the University through formal and informal media and speaking for the University at public functions at home and abroad. In November 2010, Mr. Tahir became Director PR & Communications, a position he held till April 2011 when he rose to the exalted position of Assistant Vice-President for Public Relations & Communications. In August 2013, he was re-designated as Assistant Vice-President for Public Affairs, a position he holds till date.

Prior to joining AUN, Abba had an active professional career in radio, television and newspaper journalism, media management, public relations and marketing. Between 1983 – 1989, he worked with the Nigerian Television Authority (NTA) Yola as News Assistant and in 1989 – 1990, he served as Information Officer at the National Directorate for Social Mobilization, Lagos. He later went on to join Hotline Newsmagazine, Kaduna as Senior Staff Writer between 1990 and 1991. He later worked with the Voice of Nigeria International Radio Service from 1991 till 1999. Mr. Tahir was later appointed as General Manager/Chief Executive Officer, for Adamawa Broadcasting Corporation in 1999 until 2003. While in this position, he assumed the Vice Presidency of Broadcasting Organizations of Nigeria (BON) for the north-east region. For many years, he has been a Freelance Journalist with The Guardian, National Concord, Vanguard, Daily Times and The Democrat newspapers in Lagos. In 2008 he joined the Editorial Board of Newspage newspapers Abuja and served as a Columnist until 2009.

Mr. Tahir holds a Bachelor's degree in Mass Communication from the University of Maiduguri in Borno State, a Master's Degree in Special English from the Modibbo Adama University of Technology Yola; and is also pursuing a doctorate degree in Mass Communication at the University of Maiduguri.

Since 2008 he has been an Adjunct Professor of Speech Communication at the American University of Nigeria. From 2009 – 2011 he served as a Visiting Instructor at Modibbo Adama University of Technology Yola. His teaching interests cover Public Speaking, Marketing Communications, Broadcasting, News Writing and Public Relations. Since the founding of Gotel Communications, Abba has been a Director on the board of the company and has had a variety of professional training in Nigeria and abroad which include:
1983: News casting & TV Presentation Techniques Training – Television College Jos, Nigeria.
1994: Radio Broadcast Production Course: Radio Nigeria Training School Lagos.
1996: General Management Course – The Administrative Staff College of Nigeria (ASCON), Badagry, Lagos.
2000: Broadcast Executives Management Training – Deutsche Welle Broadcast Academy, Cologne, Germany.
2000: Public Relations & Marketing – American University Washington DC
2006: Leadership Training as Fellow of the Abshire-Inamori Leadership Academy (AILA) at the Centre for Strategic & International Studies (CSIS) in Washington DC.

Abba has received numerous awards which include;
1994: University of Maiduguri Distinguished Alumnus Award.
2003: Distinguished Public Service Award, Institute of Corporate Executives of Nigeria.
2003: Media Leadership Merit Award, National Union of Journalists.
2005: National Youth Council of Nigeria Public Service Award.
2009: Literary Service Recognition Award, Association of Nigerian Authors.
Special Alumnus Recognition Award, Mass Communication Students Association, University of Maiduguri, 2010.
And in 2014, he was admitted into the Fellowship of the Institute of Global Communication & Diplomacy in Lagos.

Abba Tahir has special interests in poetry and has gone on to author over 100 poems, He also has great interests in speech and public speaking, mastering ceremonies, media writing and translating languages (English to Fulfulde and Hausa and Vice Versa).

Abba also holds one of Nigeria's most recognised teaching qualifications – the Grade 2 Teachers Certificate from Teachers College Bazza, Adamawa State. He is the Founder & President of KONNGOL SILVERTONGUE School of Speech Technology, a Public Speech Training & Event Management outfit, established in Yola in 2011. He is happily married with eight children.