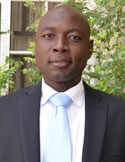 Barrister Idi Halidu Ali joined AUN in 2013 as the Secretary to the Board of Trustees and In-house Lawyer. He graduated with a Bachelor of Law degree from University of Maiduguri in 2000 and was called to the Nigerian Bar in May 2002.   

He worked previously in Tayo Jegede (SAN) & Co. in 2003 to 2009, as Senior Counsel involved in litigation/arbitration, drafting court appearances at High Courts, Courts of Appeal and the Supreme Court as well as representing clients at High Courts and Courts of Appeal. In 2009, He was appointed Head of Chambers with the responsibilities of supervising law practice, advising corporate clients, drafting conveyance documents, litigation and representing clients during arbitration.

Barrister Ali holds the position of State Secretary for the Nigerian Bar Association, Yola Branch and is a member of the National Executive Committee, Nigerian Bar Association. He is highly motivated and an excellent team player. His hobbies are reading, travelling and playing football.

Idi is happily married and has two children.