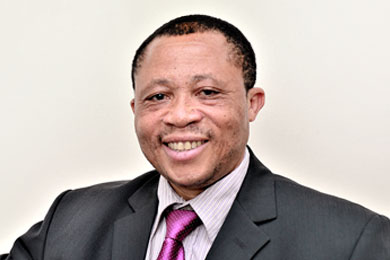 Dr. Charles Nche joined the American University of Nigeria in January 2012 as Assistant Professor of Telecoms & Wireless in the School of Information Technology & Computing.
Prior to joining AUN, Dr. Nche had worked with several leading companies in the IT industry like CTO, where he delivered several telecommunications courses including VOIP, WiMAX, Fibre Optic, NGN and Broadband Access. He also served as Telecommunications Consultant for Airvana Ltd, DisplayLink and Alphamosaic Ltd; as well as Principal Design Engineer at Nemerix Ltd, where he managed a team to successfully design and verify GPS chipsets with numerous interfaces such as Uart, I2C, SPI and Memory Controller. Dr. Nche has also served as the Chief Operating Officer of The Millennium Group Consultancy (TMGC) in charge of developing and delivering training projects in the Far East, Africa and the Caribbean.

Dr. Nche obtained his B.Sc. (Hons) in Electronic and Electrical Engineering in 1987 from the University College, Cardiff and thereafter he went to the Loughborough University of Technology where he bagged both the M.Sc in Digital Communications Systems in 1988 and a Ph.D in Electronic and Electrical Engineering in 1993. Charles is a member of the Institution of Electrical Engineering (MIEE).

At AUN, Dr. Nche currently serves as the Interim Dean of Graduate School. He was previously appointed Assistant Dean of the Graduate School in July 2014, with the responsibility of planning, overseeing and refining new graduate programs; as well as implementing improvements in existing programs. He spearheaded the launch of the Executive Master's Program in the School of Information Technology & Computing.

Besides his industry and academic experiences, Dr. Nche is fully involved in sports, especially football, squash, tennis and pool. He is fully engaged as the Manager for the U15 Girls' Team in Cottenham, Cambridge. He is the permanent coach of the AUN Staff Football Club leading the regular training activities.