Human Resources & Planning
Charged with providing personnel support to all employees, which include staff, teaching staff, faculty, employed students and alumni, NYSC, interns, consultants, temporary and casual staff, and volunteers; and responsible for providing customer service to guests and prospective job applicants.

HR General Contacts
Email: hr.office@aun.edu.ng
Skype: aunhrecruits

Leadership
Responsible for oversight of all HR functions, review and implementation of University policies/procedures, departmental organization and objectives, role of HR within the University setting
Assistant Vice President
T: 08159692469
E: nourah.bamalli@aun.edu.ng
VOIP: 1165
Nourah M. Bamalli, a graduate of Ahmadu Bello University, Zaria, he also holds MBA in UK, from the University of Wales, Cardiff. His portfolio of responsibilities covers Human Resources & Staff welfare, Housing and Logistics and is charged with providing personnel support to all staff and faculty.
He is responsible for the review and implementation of University policies and procedures. He supports the University's compliance to all labor relations and compliance to statutory operational requirements. Nourah is a well-rounded cross-functional professional, who brought the wealth of over three decades of skilled experience to AUN; he is passionate about organizational development, knowledge transfer and compliances. He is a member of both Chartered Institute of Personnel Management (MCIPM) and Nigerian Institute of Management (NIM).
Nourah's favorite quote is by Sandra Swinney, "It is amazing how much people can get done if they do not worry about who gets the credit."

Workplace Training & Professional Development
Responsible for staff training/professional development, performance management, promotions, transfers, change in designation requests, and new hire orientation


Kuve Vand
i, has diligently served the University for over 8 years progressively and rose to the position of Assistant Director. She holds an MBA in Industrial Relations and Personnel Management and a Bachelor's degree from the University of Maiduguri. She is an active member of the Strategic Human Resource Management (SHRM) and her passion is to make positive impact in the lives of people - "Creativity inspires me and I derive joy to see people are influenced to achieve their dreams through systems improvements hard work or determination, I am always willing to peacefully and diplomatically reach the specific targets".
Assistant Director
T: 08057032821
E: kuve@aun.edu.ng
VOIP: 1160
---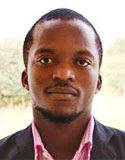 Livingstone Soni
is a graduate of Business Administration from the American University of Nigeria. He joined the HR Team in as Performance Management Assistant in 2010 and now serves as HR Partner. Livingstone is passionate about people management and development and his career objective is to become an industry expert in the field of Human Capital Management – hoping ultimately to set up a HR Outsourcing firm of his own. Livingstone loves reading books and enjoying a quiet time.
HR Partner
– Student Affairs, OTS, Facilities Management
T:
08076000199
E:
livingstone.soni@aun.edu.ng
VOIP:
1169
---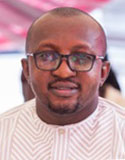 Dominic Ezeh Jnr
holds a degree in Industrial Physics from the Enugu State University of Science & Technology. He joined the HR team in March 2014 as Logistics Officer, bringing with him expertise in logistics services gained from working as Transport/Logistics Manager as Comas Nigeria Limited. Dominic loves playing video games, watching football and hanging out with friends. He is a Chelsea fan. Professionally, Dominic considers himself as a go-getter and always asks, "
If others can succeed why can't I?
"
Senior Logistics Officer
T: 08056007922
E: dominic.ezeh@aun.edu.ng
VOIP: 1161

---
Jimmy Ayara
 is a graduate of University of Port Harcourt in Rivers State where he bagged a Bachelor's degree in History & Diplomatic Studies. He resumed work in HR as Logistics Officer leveraging upon his prior experience in Non-Governmental Organisations (NGOs). Jimmy's hobbies are watching and playing basketball. He is passionate about life and this ambition to be a perfect man.
Logistics Officer
T: 08150529636
E: jimmy.ayara@aun.edu.ng
VOIP: 1166
---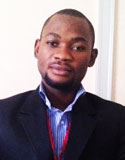 Hayatudeen Mohammed
is an alumnus of the Ahmadu Bello University in Zaria; he joined the HR Team as Performance Management & Promotions Officer. He studied Public Administration and is a member of the Nigerian Institute of Management (NIM). Hayatu also holds a Master's degree in Public Administration. Hayatudeen is passionate about being successful in carrying out his professional responsibilities and he believes that patience is a virtue.
Senior PM & Promotions OfficerT:
08058886992
E:
hayatudeen.mohammed@aun.edu.ng
VOIP:
1161

Recruitment & General Administration Unit
Responsible for national sourcing and recruitment, compensation and benefits administration, national health insurance, pension and life assurance schemes, records and HR information system, clearance administration, NYSC, SIWES/Industrial Training Program, Interns and Volunteers


Judith Passa
is the Acting Assistant Director Recruitment & General Administration. She bagged a Bachelor's Degree from the University of Maiduguri and also holds a Masters' Degree in Public Administration. Judith joined AUN in 2010 as HR Officer, Benefits & Compensation. She loves playing sports, travelling, meeting people, cooking and a dose of adventure. Judith is not only enthusiastic and dedicated to her job; she is also passionate about helping people in need and reaching out to the needy.
Acting Assistant Director
T: 08057160903
E: Judith.passa@aun.edu.ng
VOIP: 1162


---
Perpetual Okoji
, Senior HR Officer (Recruitment), leads the recruitment function in HR with an in-depth knowledge of how the Nigerian labour market dynamics work. She graduated from Nnamdi Azikiwe University, where she studied Sociology/Anthropology and is a member of the Chartered Institute of Personnel Management (CIPM). Before joining the HR team she worked with the World Health Organization (WHO). Perpetual's long term plan is to become an experienced HR Consultant within the next 10 years.
Senior HR Officer (Recruitment)T:
08150605025
E:
perpetual.okoji@aun.edu.ng
VOIP:
1167
---
Samuel K. Irmiya
joined the HR team from the Office of the State Auditor General and was saddled with the responsibility of auditing the financial records of all state government establishments within the state. He is a graduate of the University of Maiduguri, where he studied Economics and loves playing football, listening to music and traveling and his long term aspirations is to establish his musical career and to set a transportation line. Presently, he serves as Benefits Officer managing the administration of employment benefits which include annual leave requests, health insurance claims etc.
Senior Benefits Officer
T: 08057032724
E: samuel.irmiya@aun.edu.ng
VOIP:  1169

---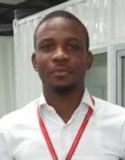 Aniekan Evans Udoekanem
holds a degree in Food Science & Technology from the prestigious University of Uyo, Akwa Ibom State. He joined the HR team in 2015 as Records Officer. Prior to joining HR, Evans worked with Eta-Zuma Group in Abuja as Data Officer responsible for ensuring effective organization of files, procedures and staff records. He has also worked with Wavelength Telecoms Ltd as well as Standards Organization of Nigeria (SON). Evans is highly knowledgeable in SAP ERP Document Management as well as Project Management and Data Processing. He is currently working on getting the relevant professional certification in these fields as well as in Records and Document/Information Management. His hobbies are writing, travelling, music, drawing and painting. Evans is a team player who is always willing to learn from everyone. His guiding philosophy for home and work is to plan your work, work your plan. As a scientist, Evans' long term career ambition is to contribute to solving the problem of power supply in the country in the nearest future by using Biomass to generate power.​​
Records OfficerT:
07055020319
E:
evans.udoekanem@aun.edu.ng
VOIP:
1260
---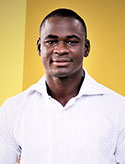 Joel Luka
, a graduated with National Diploma in Business Administration & Management. He joined AUN in 2004 as an Operative in the Security Unit and later transferred to the team at HR as Records Assistant.
Joel loves reading, travelling and playing volleyball.
Records Assistant
T: 08159692464
E: joel.luka@aun.edu.ng
VOIP: 1260

---
Support Staff
Responsible for general administrative support, dispatch, office supplies management, and expatriate immigration matters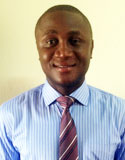 Goodness Chama
is the Executive Assistant to the AVP Human Resource and Planning. He studied Software Engineering at the American University of Nigeria at undergraduate level and also bagged an Executive Master's Degree in I.T. He is analytical and technology-driven, his passion is learning and understanding new ideas to solve problems and make a difference. His hobbies are playing basketball, watching movies and driving. His favorite quote is "
The most effective people are those who can hold their vision while remaining committed to seeing current reality clearly
" - Peter Senge.
Executive AssistantT:
08075493269
E:
goodness.chama@aun.edu.ng
VOIP:
1164
---
Bitrus Bulus
has National Diploma in Computer Science and works as the Office Assistant in HR Department. He loves reading novels and has a passion for writing, travelling and seeking adventure.
Office Assistant
T: 08056011278
E: bulus.bitrus@aun.edu.ng
VOIP: 1164