Office of Technology & Digital Services
Welcome to the Office of Technology & Digital Services (OTDS) led by the AVP Digital Services and Chief Information Officer of the university. In the 21st century, Technology has become a major business enabler.  At OTDS we have some of the smartest, most engaging and dedicated people helping the university students, faculty and staff in the use of technology in their everyday activities.

Our state-of-the-art infrastructure comprise of a 24/7 wireless network across the entire university complex, with fiber-cables connecting its major buildings. Our Metropolitan Area Network (MAN) spans over twenty-five (25) Km across the twin cities of Yola and Jimeta, extending into thirty residential and industrial complexes. The system users range from novices, who are introduced to the computer for the first time at AUN, to people who have been using computers since its advent.

Our staff have the experience to deal with all levels of users. We support all applications deployed at the university be them Enterprise Resource Planning (ERP) applications or Learning Management Systems (LMS). Working with the School of Information Technology and Computing (SITC), we offer students the perfect work-study environment in areas like Wireless & Telecommunications. Our professional and certification training center, on an impressive structure in the Yola South metropolis, has instructors who have been in the game for many years. Our training programs start from the basic ICT of Operating Systems, creating emails and navigating the internet, we also teach students basic computer and mobile phone repairs in IT Essentials. The complete course catalog includes the entire suite of Cisco Networking Academy courses, Microsoft certifications, Oracle, PMI's Project Management Professional (PMP).

To support the university's development mission, we have trained over 2000 youths, in what was termed "Peace through ICT training" for the university in partnership with the Adamawa Peace Initiative. We run a Printing Press which serves the State and beyond with the printing jobs. We have a business center in Jimeta to support the community with cyber-café services as well as basic ICT training and we run a campus store to make available provisions for our students, faculty and staff on campus.

The Office for Technology and Digital Services has four departments:-
The Department of Information Technology (DIT) led by a Director and charged with the supporting the infrastructure deployment.
The Department of Information Systems supervised by a Senior Director and charged with the development and roll-out of the ERP application as well as all other applications used in the university.
The Department of Professional & Vocational Development & Auxiliaries (DPVDA) guided by a Director and charged with training as well as managing the business center and the campus store.
The Department of Digital Services (DDS), led by a Director, is responsible for maintaining and enhancing AUN's digital library and digital learning resources.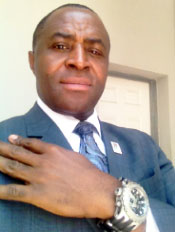 Julius AyukTabe
AVP Digital Services and Chief Information Officer


·         Office of Technology & Digital Services (OTDS)