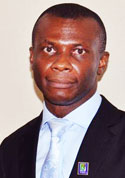 Usoh Ekaette Usoh joined the American University of Nigeria in 2004 on a part time basis as Secretary to the AUN Implementation Committee: he was responsible for documenting and reporting all the activities of the Committee. He later joined the University in 2005 on a full time basis as Administrative Assistant (and Personal Assistant) to the Vice-President, University Relations & Development.

Prior to joining AUN, he worked at the Federal University of Technology, Yola (now Moddibo Adama University of Technology) as planning officer, and also served on various standing and ad-hoc committees as Secretary.  Upon joining AUN full time in 2005, Mr. Usoh was responsible for coordinating all administrative work-flow across the five units under University Relations & Development. In addition, Mr. Usoh also served in several capacities within the University including: Secretary to AUN Board of Trustees standing committees; Secretary to the Board of Governors, ABTI Academy (now AUN Academy); member, Independent Panel on Student Discipline; Secretary/Member, Senate Committee on Ceremonies; interim Coordinator, AUN Club Services; Chair, Web Content Steering Committee.

Mr. Usoh's involvement in events planning started in 2005 when he worked closely with the Vice-President of University Relations, Dr. Eslpeth Smith, in planning the first Student Orientation for new students. Since then he has been actively involved in the event planning and organization of the University and over the years has also coordinated the University's branding effort.  Mr. Usoh has special interest in events planning and research, branding as a tool in events administration, and events ambience and aesthetic.  He is presently the Senior (Founding) Director of the Office of University Events & Publications.

He holds a Bachelor of Science degree in Statistics from the University of Uyo, and a Masters of Technology degree in Operations Research from Modibbo Adama University of Technology, Yola, Nigeria. He is married with children – Mfoniso, Etieno and Itorobong.

Senior Director
Mobile: +234 805 620 0109
Email: usoh.usoh@aun.edu.ng
---
Benjamin Musa Namo
started his career at AUN as an Office Assistant in the Office of the Vice President, University Relations & Development, in 2005.  He was promoted to Media Assistant in 2006 and promoted to Media Specialist in 2009 and Assistant Director in 2011.  Mr. Namo is presently the Assistant Director, Audio and Technical Services in the Office of University Events.
Mr. Namo holds a National Diploma in Accounting and a Bachelor of Arts degree in Communication and Language Arts. His strong communication and multimedia designs background, organizational skills, creative abilities, and long involvement in Public Relations & Communications operations have provided him with opportunities over the years that have helped not only to sharpen his multi-media skill, but also to meet people from all walks of life and cultures
Mr. Namo is highly skilled in managing AV (audio-visual) operations, providing timely solutions to technical problems that enhance events successes. He provides guidance on areas of audio technical services to the University community. His initiative is responsible for the overall and total execution of all sound-related aspects of a theatrical performance and sound reinforcement system during university events and other activities on campus.
Mr. Benjamin Musa's dream has always been to work in a dynamic and progressive environment where his creative talents and innovative potential can be fully realized. He also thrives in any group devoted to the pursuit of excellence. All these the American University of Nigeria has provided.
Assistant Director
Mobile: +234 805 812 8786
Email: benjamin@aun.edu.ng
---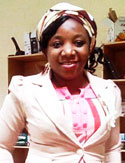 Aminat .O. Aliyu
is a graduate of the Federal University of Technology, Yola (now Modibbo Adama University of Technology) and holds a Bachelor's degree in Operations Research. She joined the Office of University Events, from the AUN Hotel, Conference Center & SPA as Administrative Assistant.
Prior to joining AUN, she has worked in many organizations and agencies: Shamad Concept Limited, Yola; Takum local Government Secretariat, Taraba State, and Petroleum Product Marketing Company (a subsidiary of Nigerian National Petroleum Company), Yola.
Administrative Assistant
Mobile: +234 815 090 2102
Email: aminat.aliyu@aun.edu.ng
---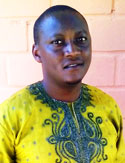 Chuwang Gyang David
is a graduate of Electrical and Electronics Engineering from the Federal Polytechnic, Bauchi. He also holds a postgraduate Diploma in Aerospace Engineering from Airforce Institute of Technology, Kaduna. He joined AUN in 2014 as the Audio and Technical Assistant, Office of University Events.
Before joining AUN, Mr. David worked in the Nigeria Film Corporation's Audio Engineering and Sound Production department, Plateau State Radio and Television.  He has also worked as Sound Manager at COCIN Church, Jos, and Technical Assistant at Panam Percy Music World, Jos.
Mr. David is very passionate about his field and career, always desiring to learn when he finds the opportunity to learn new things.
Audio & Technical Assistant
Mobile: +234 705 449 2272
Email: chuwang.gyang@aun.edu.ng
---
Fadimatu Baba
holds a diploma in Common Law from the College for Legal Studies, Yola. She joined AUN in 2011 with the PR & Communications department. She coordinates the workflow and other clerical services in the Office of the Senior Director, working across units in the Department. Additionally, she assists in the planning and organizing all university events.
Prior to joining AUN, Ms. Baba has worked in several organizations including Adamawa State Ministry of Environment, and Adamawa Investment. To Ms. Baba, challenges are what make life interesting and overcoming these challenges is what makes life meaningful.
Senior Events Clerk
Mobile: +234 805 503 9700
Email: fadimatu.baba@aun.edu.ng
---