Office of the President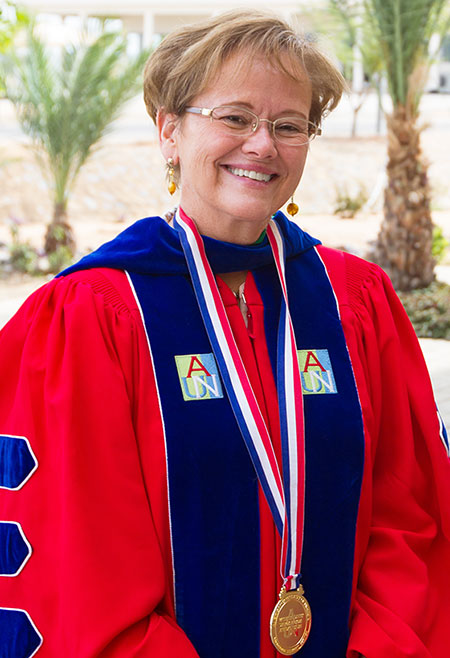 Dr. Margee Ensign is president of the American University of Nigeria (AUN). She also leads the Adamawa Peace Initiative (API), a local Yola-based response to the escalating violence, which has successfully promoted peace in the area through education, empowerment and community development. Under Dr. Ensign, API is also currently undertaking humanitarian relief work in the region and providing food aid to more than 150,000 internally displaced people sheltering with family members in Yola. Dr. Ensign has been internationally recognized for her pioneering work at AUN.

Dr. Ensign has worked in and on the continent for fifteen years and has served as an advisor to the governments of Uganda and Rwanda. She is a widely published scholar whose work focuses primarily on the challenges of international development, as well as on the implications of development assistance. She co-authored Rwanda: History and Hope, in which she documents Rwanda's rebuilding efforts since 1994. She is also the author of Doing Good or Doing Well? Japan's Foreign Aid Program and Images and Behavior of Private Bank Lending to Developing Countries. Her most recent publication is entitled Confronting Genocide in Rwanda: Dehumanization, Denial, and Strategies for Prevention.

The third President of AUN, Dr. Ensign earned her B.A. from New College in Florida, and her PhD in International Political Economy from the University of Maryland. She began her academic and administrative career at Columbia University in New York City. There she combined roles of Assistant Professor of Politics and Economics with Director of the International Political Economy Program.

From Columbia, she became a Professor at Tulane's International Development Program, offering advanced programs at the Master's and PhD levels in International Development, and Director of USAID's Development Studies Program. She has also taught as Visiting Professor at both Georgetown and American Universities, in Washington, D.C.  Prior to AUN, Dr. Ensign served as Dean of the School of International Studies and Associate Provost for International Initiatives at the University of the Pacific in California.

Her commitment to education and the creative re-thinking of development has brought international recognition to the pioneering programs at AUN. She was awarded the African Business Roundtable,  Distinguished Leadership Award for Educational Excellence, in London in 2011, the African Leading University of the Year Award, by African Leadership Magazine in 2012. Rotary International made her a Paul Harris Fellow Award in 2012, the same year she received the Adamawa State, Peace Ambassador Award.

On December 10th 2014, Dr. Ensign received the African Leadership Award from the World Centre for Corporate Social Responsibility. In 2015, the Women of Jama'atul Nasril Islam in Nigeria recognized her for her contributions to Leadership, Philanthropy and Education of Women and Girls in Northeast Nigeria.

Dr. Ensign has been the President of AUN for six years. During that period the largest building in Northern Nigeria was constructed as well as an award-winning library. A graduate school was established with both masters and three PhD programs. She worked closely with the Board to develop an innovative strategic plan, which makes AUN the first "Development University" on the African continent.