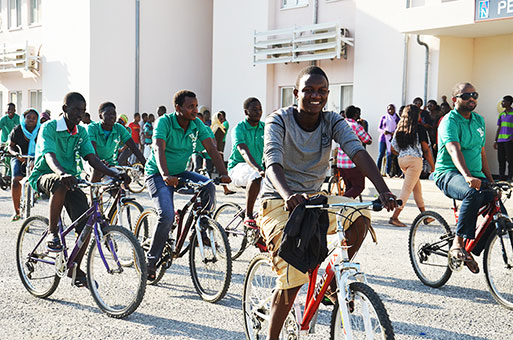 The moment that AUN realized that it could reduce energy costs by creating a sustainable campus, it created its own Office of Sustainability Initiatives. Since then, the University has been working to drastically reduce energy costs by monitoring electrical equipment and lighting, reviewing how much power the campus uses by observing usage patterns, initiating an energy-savings campaign, and educating the University community about the benefits of sustainable activities.


The AUN Sustainability Month began in November. The comprehensive community outreach helped raise awareness throughout AUN by showing students, faculty, and staff members all the natural resources that are available on campus, and teaching them how they can complement the present efforts.


Next year, Energy Consultant Michael Ameh will begin using a comprehensive e-diesel monitoring and control system. Mr. Ameh conducted an energy audit to help identify the University`s energy usage patterns, propose improvement opportunities, and establish priorities for implementation. "The plan is to reduce energy usage in areas that don't require much lighting," he said. "We also plan to use energy-saving light bulbs, retrofit air conditioners with energy-saving sensors, reduce temperature set points of water heaters, and install electricity monitoring meters and building dashboards on all AUN buildings. People will be able to see how much energy is being used and wasted."


"We owe a lot to the Executive Director of Facilities & Capital Projects, Alex Cobo, who is a big part of our energy conservation efforts. Dr. Charles Reith has also been very supportive as well."


AUN will create sustainable, renewable energy that will allow it to be self-sufficient. The Office of Sustainability Initiatives is working on several other complementary projects that include its 3R (reduce, recycle, reuse) Campaign, which focuses on waste management techniques that will be used to control the way paper is consumed. Sustainability professionals at AUN are also making and testing Eco-briquettes that have the ability to eliminate the use of oil products and firewood. Another project, Yola EcoSentials (YES), a business venture, teaches community women how to turn recycled material into moneymaking products, and there are several nature and exercise trails around campus that re being used to preserve the environment.


The Sustainability Office is also getting students involved. The STARS Club (Student Teams Advancing Regional Sustainability) and students in Geology 101 are creating more awareness in the local community with their activities. President of STARS, Ibrahim Radda, has been very active with membership recruitment and organizing activities on and off-campus. 


"I have no doubt in my mind that with a continuous commitment to an energy-efficient AUN, the University will be on the right track toward cutting its energy spending by 10 percent," said Coordinator of Sustainability Programs, Jennifer Che.


As a 'Development University',  AUN is doing everything in its power to create a sustainable environment in Yola. Sustainability is now seen to be one of the major factors behind development and   at this critical point in time. Through energy conservation, a recycling plant, alternative energy sources, natural area preservation, and environmental education, AUN is working hard to be self-sufficient, and much of the progress made will be shared with the Yola community, the rest of Adamawa, and Nigeria.