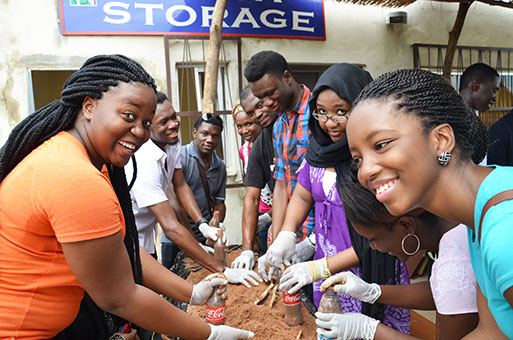 The waste in non-sustainable energy practices was brought to the fore at the official kick-off of the Energy Savings Campaign on November 19.
The official launch was also an opportunity for the University's senior management to speak on what energy saving involves. Chief Financial Officer Anthony Agbo said that energy savings should be a collective effort, particularly as the operating cost of AUN is huge. He said energy usage at AUN represents over 10 percent of the total operating cost, and urged the community to rethink their energy-spending profile for efficiency. "If we want to be seen as an energy-efficient community, we have to give it deserved attention; that is why I think we should all give as much support as we can to the effort of the sustainability team."
Executive Director of Facilities & Projects Alex Cobo pointed out the diminishing power from the public mains following a transformation in Nigeria's power sector. He reiterated the need to look into alternative sources of sustainable energy, particularly for a community like AUN. He said running the campus on diesel and gen sets were "a great operational cost." He mentioned plans to develop alternatives like bio-fuels and biodiesels.
"This is a very feasible solution here; it's just intensive in time and cost to develop." He urged the community to collaborate with the energy team in finding solutions to the problem of power generation and implementing them.    
Dean Byron Bullock said, "Everybody can participate in this, and it doesn't have to be a task, it doesn't have to be a job that we do.  It should be something fun and energetic, for this community to make a difference in Yola." He encouraged the community to develop a mind-set toward making this a better place.
Interim Provost and Director of Sustainability Initiatives, Dr. Charles Reith, emphasized the importance of energy. He said energy means a lot to Nigeria, which is in a state of "energy poverty." Nigeria rated low in terms of how much of energy was available per capita, he added. "When you translate that to what energy delivers to us, you realize how serious it is." He encouraged the audience to try 'efficiency' as a solution to energy waste.
Reith, with Bullock, Agbo, and Cobo together turned off a lighted bulb wired to a platform in a gesture to save unneeded energy. The audience greeted the symbolic action with applause.