Jelena Zivkovic
Interim Director Academic Advising & Retention office
Has years of experience at AUN working with student clubs, teaching, participating in community activities, researching and writing. She now brings her experience to the Academic Advising and Retention office working with a great team of professionals. Jelena is here to advise students by engaging them in the decision making process. She holds a postgraduate degree in management and education coupled with the many years of teaching at AUN makes her sensitive to the needs and challenges of AUN students. Students are encouraged to take some time to meet with their Advisor each semester so they can be better guided to their graduation day. Jelena enjoys visiting the mountains of Yola, looking after animals and taking photos.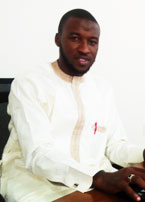 Abubakar Radda
Assistant Director of Academic Advising & Retention office
Abubakar Radda is an alumnus of AUN and the new Assistant Director of Academic Advising and Retention. Mr Radda has experiences in student services ranging from participating in various club activities to attending domestic and international conferences such as with the United Nations, Gastech Conference, etc. He has dedicated much of his time serving students in different capacities and has rejoined the Academic Advising team primarily to continue to provide effective guidance and support to enable the students make informed and accurate decisions on their path to academic success. He was part of the Alumni Corp upon graduation and served as the Special Assistance to the Vice President for Enrollment Management and Dean of Student Affairs immediately after his graduation from AUN. He worked for General Electric (GE) in Lagos as a Projects and Operations Specialist before being moved to finance where he joined the FP&A team shortly before he resigned and picked up another job as the Chief Financial Officer (CFO) of AA Mbamba Petroleum Nigeria Limited.
Mr. Radda, currently an AUN PhD candidate received his Master's Degree in Oil and Gas Management from the University of Plymouth, UK after his Undergrad in Petroleum Chemistry and Engineering. "I wish to use this medium to humbly invite students to make use of this wonderful opportunity availed to them to become familiar with the advising team and encourage the entire student body to schedule appointments to meet with these advisors at least twice a semester to discuss their academic goals and be guided rightly."


Eno Obindu
Academic Advisor and Special Projects Coordinator
Enoh holds a Bachelor of Arts Local Government and Development Studies, Amadu Bello University, Zaria, 2011. She was actively involved in AUN's first sustainable project known as Yola EcoSentials - a waste to wealth initiative, which has presently gained both national and international interests. Based on her experience and passion for crocheting with recycling material, she participated in  breaking the Guinness World Record for the Most People Crocheting Simultaneously, 2015

She also serves as a Vice President of a New Ministry known as Rulers' House International Ministry, (House of Kings). Her service with the House of Kings and AUN gives her the confidence and skills to interact well with people of diverse backgrounds, as well as, her continuous drive towards community development . Enoh is currently working towards a Master's of Public Administration, National Open University, Nigeria which will enhance her current knowledge base.

Enoh enjoys social events, singing and any activity geared towards human development.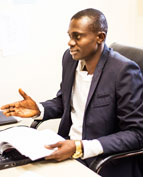 Daniel  Ugwuede
Academic Advisor with the Academic Advising and Retention office
Daniel, a result -oriented individual,who is a journalist by qualifications with a working experience in the Media industry. He has years of experience at AUN working with Residence Life, Student Affairs. He actively participates in community service projects, enjoys publishing for AUNthisweek, as well as writing poems.  Daniel encourages an inclusive environment in which diversity and beliefs are supported.   He holds a Higher National Diploma in Mass Communication from the Institute of Management and Technology, Nigeria and a post graduate diploma in Business Management from the American University of Nigeria, and also a member of the Nigerian Institute of Management. He is a motivational speaker who reaches out to the youth within his community. He has been exemplified through various leadership development programs while employed at AUN. He now brings his length and breadth of experience and knowledge to bear at the Academic Advising and Retention office. Daniel's passion outside of work is playing soccer and taking pictures.