Page 12 of 20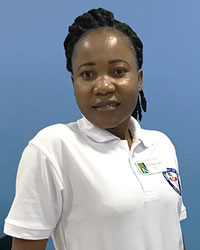 Ms. Patience U. Eze, BNSc, RN, RM

Ms. Patience Eze, a registered nurse and midwife, graduated in 2013 from the University of Calabar with a Bachelor of Nursing Science.  She did her mandatory national service at the Federal Medical Centre, Owo, Ondo State, in 2013/2014.  Immediately after the service, she worked with Bakor Hospital Ikom, Cross River State, as a staff nurse and midwife for one year and was promoted to Matron, a position she held for one year and six months.  She worked as a contact person for Society for Family Health and Heartland Alliance Nigeria before joining AUN.

Ms. Eze attended the following conferences with certifications: Multidisciplinary Health Research Conference organized by the West African College of Nursing, West African College of Nursing Conference on Standard Patient Care, Enhancing Professional Competencies of Nurses Conference, certificate on National HCT Training for Community-based Service Providers by Heartland Alliance Nigeria, certificate on PMTCT by the Society for Family Health, Workshop on Family Planning by the Society for Family Health, certificate on Millennium Development Goal Advocacy Project, Akure Business School certificate, certificate on Mandatory Continuing Professional Development Program, Calabar Chapter, certificate on Leadership and Management in Global Health and certificate on Clinical Management of HIV  from the University of Washington.