Page 13 of 20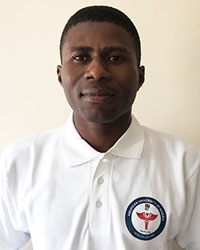 Mr. Jacob A. Dubo, MLT

Jacob Dubo, Medical Laboratory Technician (MLT), obtained his qualification from the College of Health Technology, Michika, Adamawa State. Before his graduation in 2012, he took part in the Student Industrial Work Experience Scheme at the General Hospital, Mubi, and Specialist Hospital, Yola, both in Adamawa State.

Being licensed to practice by the Medical Laboratory Science Council of Nigeria, Dubo started a career in 2013 at Sauki Medical Centre in Jimeta before joining AUN in 2016.  He was trained in Yola in 2014 by Klenchex Nigeria under the Continuing Professional Development Program.  He belongs to the Association of Medical Laboratory Technicians and Assistants of Nigeria, which he currently serves as the Publicity Secretary of the Adamawa State chapter.