Page 14 of 20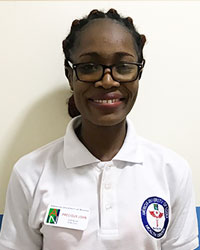 Ms. Precious John, RN, RAEN (JP)

Ms. Precious John is a registered nurse and registered Trauma/Accident & Emergency Nurse with Nursing and Midwifery Council of Nigeria. She graduated from S.O.N. University of Benin Teaching Hospital, Benin City. In 2012 and SPAEN University of Port Harcourt Teaching Hospital in 2015.

Ms. John began her nursing career and practice with Fountain Head Medical Center, Abuja, in 2013, and was also an in-house Clinic Nurse at Royal Mills & Food Company, Karu, Abuja.  She also worked with Saffron Hospital, Nyanya, Abuja. She was part of the Federal Medical Team of Nigeria Christian Pilgrim Commission to Israel in December 2014. She later worked with Divine Touch Clinic & Maternity Center, Port Harcourt, and Park House Urology Center, Abuja, in 2016, before joining AUN in 2017.

She has attended seminars and workshops on Basic Life Support, Advanced Cardiovascular Life Support, Airway Management and Disaster Response & Management, carried out research work on knowledge, attitude, and practice of standard precaution among health workers in the emergency department of UPTH (2015).

Her hobbies include reading, traveling,designing fashion catalogs, dancing, yoga, and gymnastics.