Page 15 of 20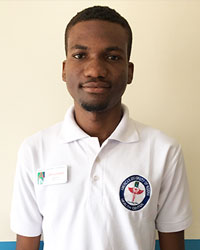 Mr. Joshua A. Matthew, RN

Mr. Joshua A. Matthew is a graduate of College of Nursing & Midwifery, Gwagwalada, Abuja (affiliated to University of Abuja Teaching Hospital, 2012- 2015) and is also a registered nurse.  He attended First Aid Resuscitation Course-Choking, Cardiopulmonary Resuscitation, and Automated External Defibrillator. He also attended a conference organized by the West African College of Nursing on Standard Patient Care, Enhancing Professional Competencies of Nurses in Abuja.

He began his working career in Dayspring Medical Center, Idiroko, Ogun State, in 2015. He also worked at Wuse General Hospital, Abuja, from November 2015 to March 2016, Supreme Home Care Services, Abuja, as a Palliative Care Nurse from April to June 2015, and Premier Heart Hospital, Gwarinpa, Abuja, between July 2015 and November 2016, before joining AUN in January 2017. He is currently pursuing his BNsc (Nursing) at LAUTECH, Ogbomosho. He loves cooking, traveling, reading, and computing/programming. He is a certified computer hardware/software engineer) as a polyvalent nurse.