Page 10 of 20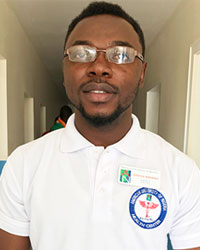 Mr. Joshua Chidiebere Nwambo, RN, RM

Registered under the Nursing and Midwifery Council of Nigeria as a nurse, midwife, and public health nurse, Joshua C. Nwambo graduated from Nnamdi Azikiwe University, Awka, with First Class Honors in Bachelor of Nursing Science. He also has a certificate in the operation of Medical Database and ICT. As an undergraduate, he received many distinguished awards as the overall best graduating student of the Department of Nursing Science, Leadership Excellence Award under the auspices of Nigeria University Nursing Students Association where he served as the President (2012/2013) and Director of Academics (2010/2012). He worked as a Research Assistant between 2011 and 2012 and received an academic merit award in Research Project.

He performed the one-year mandatory national service Corps between August 2014 and July 2015 in the General Hospital, Abeokuta, Ogun State, during which he served as the General Secretary to the Medical Community Development Services and was  recognized as the most versatile member of the group. Mr. Nwambo is also a choral co-coordinator, music composer and conductor with years of experience. Post-service year he worked for three as the Resident Nurse in Government Reserved Quarters in Asaba, Delta State, before joining the AUN Health Center.