The University has been selected under the Enabling Writers contract to lead the development of 200 Hausa readers in Nigeria and Cameroon.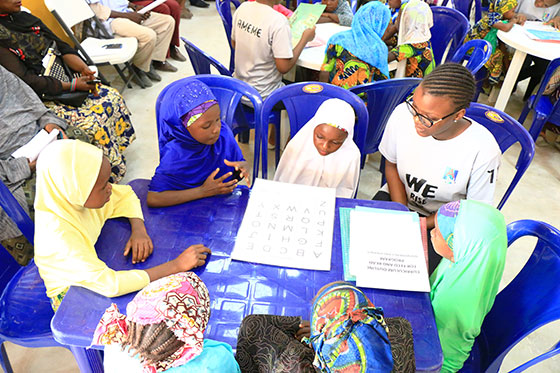 Under the nine-month project, AUN will work with state and federal government language experts from Nigeria and Cameroon as the readers will be available to education authorities in both countries.
Enabling Writers is a program supported by the "All Children Reading: A Grand Challenge for Development Partners."
President Ensign, on receiving the notification for this award, noted that it will go a long way towards promoting the teaching and learning of indigenous knowledge through the stories that will be developed. Overall, literacy for the children will be promoted as well. "It will also contribute immensely to the number of titles available for learners in Hausa language while promoting oral tradition that could have been forgotten if these stories are not written."
As part of its development mandate, AUN has been involved in improving the quality of education available to children in surrounding communities. This is achieved through after-school tutoring in primary and secondary schools as well as the development of Hausa readers for use in primary schools.

Since 2012, AUN has been implementing the Students Empowered through Language, Literacy, and Arithmetic (STELLAR) program.  This program developed reading materials in Hausa and Fulfulde for use by our students to deliver after-school and homework support to pupils in primary and secondary schools in Yola and Jimeta.
In 2015, with funding from USAID, AUN started the Technology Enhanced Learning for All (TELA). This project was targeted to reach over 22,000 mainly out-of-school children with literacy and numeracy interventions through radio and tablet computers, readers, workbooks, and related instructional materials developed by AUN students and faculty.

In June 2016, AUN responded to a request for proposals from the USAID-funded "Reading within Reach" project implemented by the University Research Company (URC), a project intended to tap into its experience and expertise with developing readers in Hausa over the years.


By Innocent Nwobodo