In the buildup to this year's Career and Graduate Fair coming up on March 23 and 24, the Office of Career Services has hosted a mock interview session for prospective participants.
The simulated interview is to help students understand how to interface with prospective employers.
The Director of Career of Career Counseling and Placement, Mrs. Grace Nwokoma, explained why this simulation is important and noted that the fair is an event that connects industry-ready students and graduates with potential employers and or graduate schools.

"We always prepare our students on what to expect out there; this is why we have this simulation of an actual job or admissions interview on campus."

Mrs. Nwokoma was optimistic about the fair succeeding, as two of every three students/graduates who participated in the program in the past either benefited from an internship opportunity or direct employment with participating companies as a result of the fair.


Mrs. Emilienne Akpan, Director of the Writing Center, who played the part of the interviewer, advised that students be ready for questions regarding AUN's liberal arts philosophy.  They should be prepared to explain to employers how they would apply lessons from the classroom to solve real-life problems.

Final-year student, Okechukwu Ohamadike, a participant in the mock interview, said that this practical interview had opened his eyes to the need for more general knowledge and to more research on the companies. "It tested my strengths and my weaknesses."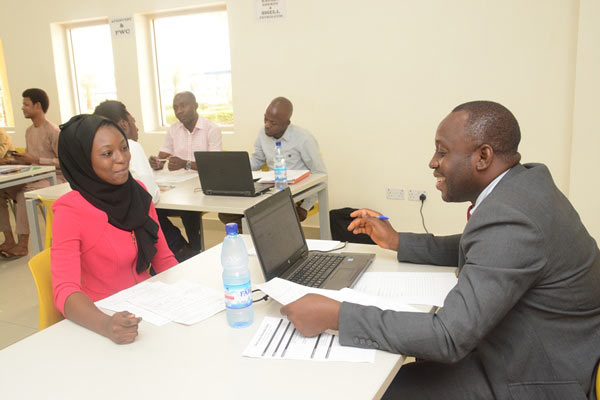 Second-year Computer Science major, Ms. Deborah Igbazua, said she was nervous as this was her first time to attend a job interview session.  She was not alone.  
This year's career fair will be held on March 23 and 24 in Lagos at the Civic Center, Victoria Island.

By Nelly Ating