Following the enforcement of the zero-tolerance policy towards plagiarism, there have been campus-wide awareness efforts and campaigns.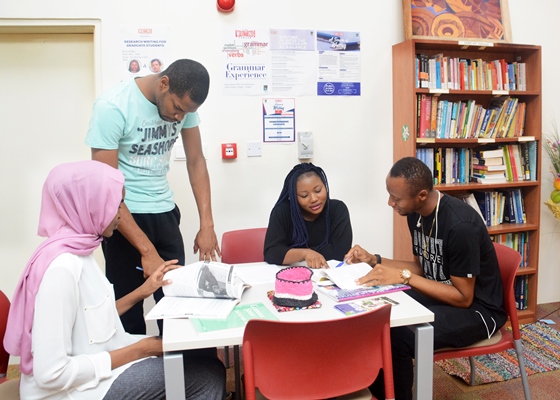 The Writing Center is at the heart of these campaigns, and its continuous bid to promote the policy gave rise to a recent citations workshop hosted by its tutors.
​On April 7, students from different departments stepped aside from their usual Friday schedules to be a part of the workshop.  Given the Writing Center's commitment to promoting academic integrity, it is no surprise that "Cite Your Sources" was a huge success.  Under the guidance of Ms. Elizabeth Sclama, the Study Skills Instructor, the Writing Center tutors delivered a brilliant presentation on APA and MLA styles of citation.
The Lead Tutor at the Writing Center and a fourth-year student in Information Systems, Conrad Bukenya, opened the workshop by welcoming the audience and giving an overview of the workshop's agenda.  The workshop covered the importance and purpose of citations, in-text citations, bibliographical pages, and a practice session with questions and answers.​
Oscar Iwu and Amina Abbas, both tutors at the Writing Center, took the stage after Mr. Bukenya to discuss in detail the relevance of citations in academic and formal writing and how to go about it.  After this segment, Vanessa Williams explored the basics of citations with the audience in terms of the relevant details to look for, and the format for in-text citations.
Taking over from Ms. Williams were Edward Rajah and William Djarangar who took the audience through citation and bibliographical formats from different sources for both APA and MLA styles.  After that, Boluwatife Alege and Hafsat Adamu discussed other salient points such as citing multiple authors and non-periodical websites.
Exploits Nicholas, another tutor at the Writing Center, took the audience through a practice activity based on the content shared and discussed during the workshop.  Mr. Nicholas formally announced that he would be answering questions, as that was the last part of the workshop.
During this workshop, other tutors – Ubachukwu Onyejegbu, Farida Haliru, Hadiza Abdulkarim, Abuoma Offia, and Precious Egeonu – were present, and they helped to ensure that the workshop ran smoothly.
"Cite Your Sources" struck a chord with Emmanuel Wogu, a third-year student in Communications & Multimedia Design, who said, "The workshop was quite helpful.  It was informative and everything I expected.  I always get confused about citations when writing a paper, but thanks to the Writing Center, this workshop cleared up many things.  If possible, more workshops like this should be organized." 
"I am very proud of their academic performances, dedication to service and diligence in every task assigned. They are an asset to the university community," added Mrs Akpan, Director of the Writing Center.


By Hafsat Adamu, Deputy Lead Tutor, Writing Center