It is with great sadness that the University community has learned of the death of AUN Board member, Dr Eamon Michael Kelly, who died on June 28 at age 81.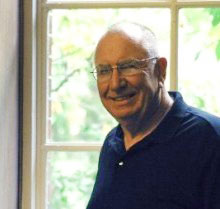 An American educator of enormous stature, Dr. Kelly transformed Tulane University during his Presidency (1981-1998), raising it to international stature.  A mentor and good friend of AUN's former President Ensign, Dr. Kelly joined the AUN Board in 2012. 

"America and the world have lost a visionary and a man who lived his life in service to others.  His contributions to AUN are countless.  We can best honor him by following his example," she said in her tribute.
Among many other accomplishments, Kelly served as chair of the National Science Foundation, one of the most prestigious academic positions in the United States.

AUN Board colleague and Professor at the Tulane School of Public Health and Tropical Medicine, Professor Bill Bertrand, was quoted as saying, "Eamon was a special guy who really saved Tulane from financial disaster during his presidency and launched the university on its current path of high national rankings and worldwide recognition."

Current Tulane President Michael Fitts added to these accolades in a message on June 29, "Eamon's impact on the history of Tulane cannot be overstated."

Dr. Kelly hailed from New York where he earned his first degree from Fordham University and a Ph.D. in economics from Columbia University in 1965.  He was Assistant Professor at Penn State University and then worked at the Ford Foundation in New York.

Dr Kelly and his family have been in New Orleans since 1979, when he became Tulane's Chief Financial Officer and Executive Vice President.  He took over as interim president in 1980 and then was appointed as President in 1981.

Tulane's first president to appoint African-American and woman vice presidents, Kelly instituted Tulane's nondiscrimination policy for recruiting faculty and students.  The university is notable for having the highest percentage of African-American students of any major private research university in the United States.  
By Innocent Nwobodo