Nigeria's literacy rate is under 50 percent, according to official UNESCO statistics.
But this is not so for Denmark, which has 99 percent.  Danish Ambassador to Nigeria, Torben A. Gettermann, believes that helping to support a project such as Feed-and-Read can contribute to creating a literate society for Nigeria.  This is the motivation behind his determination to raise funds to help sponsor 75 girls this year in the program.

In November 2016, when he visited AUN, he learned of the project.  "I thought it was a fantastic project.  I wanted to see if I can get some money from my ministry to help in the project, and I succeeded."

Ten months later, on September 27, when the Ambassador returned to the Feed-and-Read Center, he was impressed with the commitment of the teachers to the program.

"Fantastic work you are doing.  Give a girl a pen and she can make wonders.  That is what you are doing here.  I am so grateful for the work you are doing."

Ambassador Gettermann said there is a "whole new world" that opens when a child can read and write.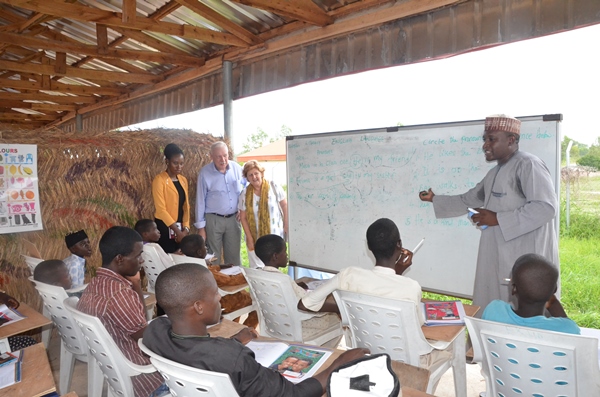 "I am so happy to be here today to see the girls, the beneficiaries of the money that I could raise from Denmark for this project… Seeing them today is amazing.  To see the girls speak English, I must confess, was emotional.  It just shows how much we can do if we start educating them, teaching them how to read and write.  It gives them a completely different perspective of their world."


One of the project coordinators, Mrs. Elizabeth Raymond, said before now the girls did not have the opportunity to go to school, or even read or write in English.  "They started this program not speaking English at all.  They only speak their local dialect.  And eight months into the program, you can hear them speaking English.  It might not be perfect, but it is a very good try."


By Omorogbe Omorogiuwa