The AUN Honor Society (HS) organized a one-week event to create awareness about its tutorial services.

Addressing new students, Head of Tutorials Ross Hart, explained how the Honor Society helps in rendering assistance to students through the tutoring services offered.  "We guide students to excel academically.  We point you in the right direction."

President Dekle addressed members of the society at the opening of the awareness week, describing them as role models.  "Each and every day, you will be giving the Honor Society that honor by how you conduct yourselves as role models for the rest of the community, for lifelong learning and habits.  So it is what you bring to it that makes it Honor Society."

Obviously impressed, President Dekle said, "When I think of the program today [referring to the HS orientation for first-years] and how you are going to introduce the tutoring center, I think that is the right approach."

The Honor Society is an organization peopled by high-achieving students.  Students become members by invitation based on their CGPAs after a year and upon their passing an oral interview.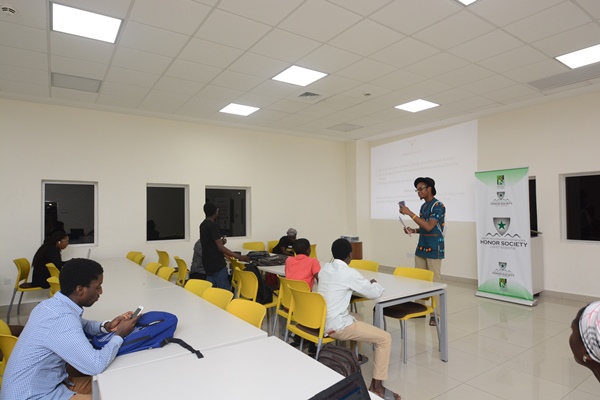 President Dekle praised the society for helping other students by organizing support through the tutorial service platform.  She observed that excellence, service, and integrity are the university's core values, which members have imbibed through their good study habits.  "So, when I look at you, I know what I am looking at is not just your brain or this natural ability to be smart.  I am looking at the hours you spend studying.  And those are habits you have built over time to get those good grades."

President Dekle pointed out that other students could be mentored to become members of the society.  "I really think people learn at different rates.  Maybe you learn a little faster than your peers.  Maybe you pick up the habit faster...  But I think your peers can also be brought along.  It might take them a little longer to earn a concept.  Maybe they would need to study a few more hours."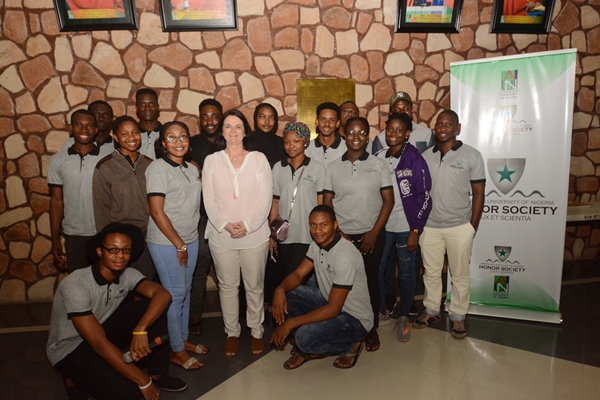 She urged the members of the society to transfer those habits of excellence to other students.  "That is what matters to me.  When all of you are so smart and doing so well, I really think you can bring others along…  I'm really glad that the tutoring center is managed by you and you are there to help out your peers."
By Omorogbe Omorogiuwa