On October 6, the School of Graduate Studies (SGS) held its second seminar for the Fall 2017 semester.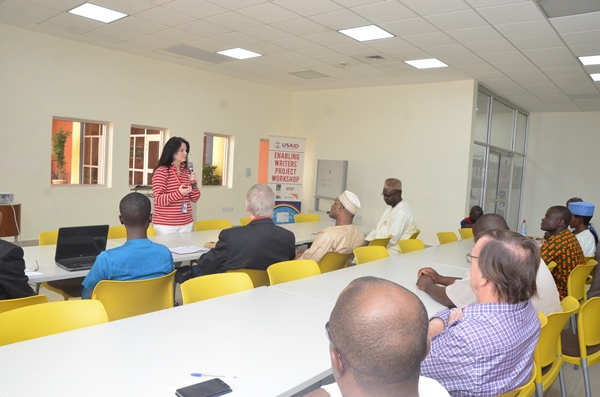 It featured the University Librarian, Dr. Carlos G. Wong-Martínez, and Director of Digital Services, Mr. Benson T. Ali, who both presented on the topic: The Place of AUN Virtual Library Resources in Graduate Studies.
President Dawn Dekle opened the seminar by sharing with the audience her experience as a graduate student 30 years ago.  She also shared some success tips.
Dean of the School, Dr. Charles Nche, explained the essence for choosing the topic, maintaining that there was need to let the students know how they can access library information.
"This is so important just like the last seminar we had. There is absolutely no way you can succeed without doing a lot of research and this means reading other people's work to inform you and make you pick the right area."
The first seminar was organized in collaboration with the Writing Center.  Dr. Nche said it was held to ensure that they understand what is expected of them in writing a clear and credible research proposals and theses.
"If you cannot communicate your idea, no matter how good you think you are, nobody else knows what you are saying."
Like the president, Dr. Nche also shared success tips for the graduate program.  These tips include keeping to time, respecting other people's opinion, and making a self-assessment of their abilities. He encouraged them to be regular in their attendance of the SGS fortnightly seminar. "The series is meant to complement the things you do in class.
Vice President of Academic Affairs (VPAA) & Provost, Prof Muhammadou M.O. Kah, told the graduate students that AUN will continue to support them in their academic pursuit.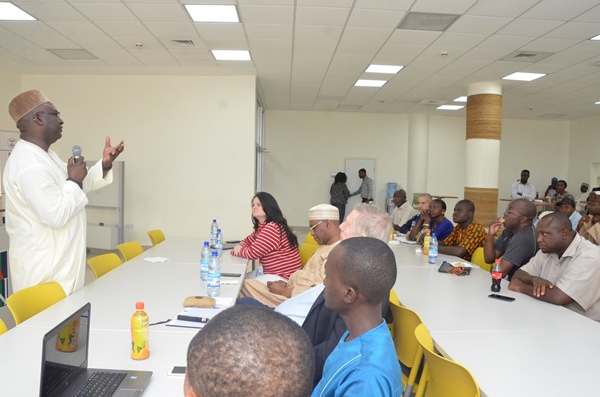 "We will explore all the support mechanism to ensure that you as Ph.D. students will be able to do your research effectively and efficiently, with the expected standards and quality."
Warning that they should not expect spoon-feeding, Prof Kah said, "Most of the learning is actually done by you as graduate students. You have to have a taste and hunger for knowing what you already know in knowledge as widely as possible, and what is there that is known and not certain, and what you can add to that as your contribution."
The Provost assured them that the AUN graduate program will not be subjected to any attempt of lessening the rigor. "The experience and the rigor that you will be subjected to should not be watered down. As inconvenient, as challenging and as difficult that may be, pursuing a Ph.D. is a humbling experience."
Dr. Kah stressed that it is the rigor that makes it worth the learning experience as it strives to become like other graduate programs in reputable universities worldwide. "I always tell students that if you've gone through a good Ph.D. program, one thing you will take away if anything is that you have been humbled along the way. That you have been told that knowledge is a continuum, that you've learned that you are just beginning your learning journey."
By Omorogbe Omorogiuwa