On October 4, SITC launched its first set of Seminar Series for the Fall 2017 semester, on the theme of Artificial Intelligence.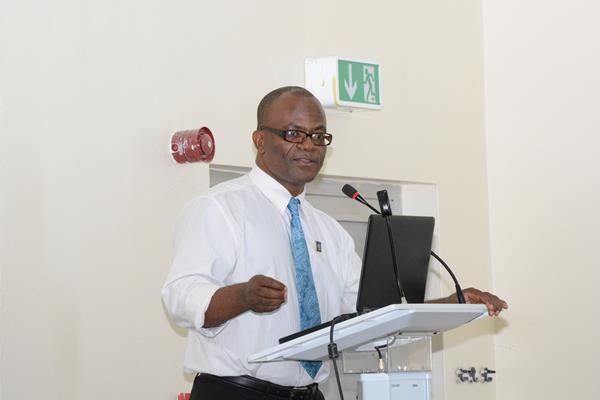 The Dean of SITC, Dr. Mathias Fonkam, briefed participants of the seminar series, noting that one of the School's key priorities has always been to define research themes that could pull together researchers in certain key areas such as AI for collaborative and interdisciplinary works that support the mission of the school and university.
He thanked President Dekle for a link she had recently shared with him pointing to the growing importance of AI and inquiring what the School of IT & Computing was doing in the field. The dean said that this is what triggered the action for this first Seminar Series on AI; which they already had on their list of research themes.
He said fostering research themes, besides individual faculty research, will help "create an identity for the school, serve as a selling/reference point when we are hiring faculty and admitting students into our PhD programs, besides providing plenty of research opportunities for faculty and student alike."
Dean Fonkam announced that there will be four presentations in this first series on AI running from October 4 to November 15. Following the AI series this semester will be one on Systems Dynamics and its potential for addressing a myriad of growing concerns at all levels, particularly within Nigeria and Africa.
He encouraged students to take advantage of these seminars and the parallel running skills-building workshops that SITC faculty also facilitates for the AUN community.
President Dekle in her opening remarks commented that the world is going more and more digitalized and it was high time the University began to think about the Artificial Intelligence field.  She said interdisciplinary research work can make this attainable.  "If everything is going to be digitalized, what are we doing together as a learning community? You hear about Big Data all the time and how you mine data. Why don't we do something in that area because I don't know of any university in Nigeria that is got a degree program or major in Big Data. It is very interdisciplinary."
President Dekle also recognized the limitations that come with digitalization. "For me, the university has to be about the experience with the curriculum, not just the curriculum itself. And the university experience has to be about teaching what can't be digitized. You can't digitize empathy. You can't digitize teamwork. You can't digitize respect or integrity. These kinds of values we want graduates to have and which we want to have as a learning community." She challenged researchers to keep an eye out for these things that can't be measured but are all important in driving results and building a healthy and sustainable entity.
Also in attendance was the Provost, Professor Muhammadou Kah, who expressed profound interest in the field of Data Science. Provost Kah reassured the University community of his commitment to making it a vibrant research unit. "I'm into research activities that are student- and faculty-driven. We want to make this a very vibrant community where students can come and share their own research interests, that they can go and do their own work and vetted by the faculty to present it. I understand that that has been done before but we want to strengthen it."
An Assistant Professor of Computer Science in SITC, Dr. Rajesh Prasad, gave the first presentation on the AI series titled: Clustering Algorithms and Applications in Data Science. He started by reviewing and positioning the field of data science and how it relates with others such as data analysis, data analytics and data mining. He explained clustering as a data mining technique that involves partitioning a large number of data points into a smaller number of groups. "It groups the objects in such a way that objects with similar characteristics are in one group and objects with dissimilar characteristics are in a different group."
On the importance of the technique, he said, it helps in summarizing data and providing insight for a variety of data mining applications. Both techniques in his opinion were important tools of AI.
Provost Kah spoke of a plan he has to replicate work he did elsewhere; and also set up a center of excellence in data science here at AUN.
In his closing remarks, Dean Fonkam thanked Dr. Prasad for his brilliant work, his team spirit and dedication to his work and students. The dean also thanked the seminar and workshop organizers, Dr. George Thandekkattu and Dr. Babatunde Ogunleye, for the excellent job they did at such short notice pulling this together.
Dean Fonkam also acknowledged and thanked the Office of Communications in getting the word out on these seminars.
By Omorogbe Omorogiuwa