On October 14, President Dekle inaugurated AUN's Alumni College, a promise she made to the Community on July 4, when she assumed office.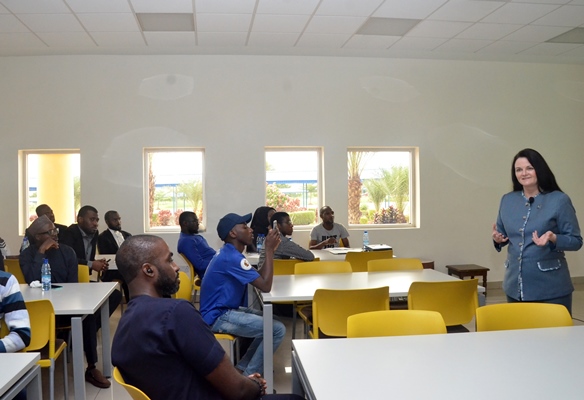 A feature of the American university system, Dr. Dekle explained that is intended as a platform for lifelong learning for the AUN graduates, adding that the purpose is to provide fresh insights to alums.
Maintaining that when students graduate from the university, they are only just beginning their learning journey, the President told the gathered alums, "You need to have people helping you to see your blind spot."
Being the facilitator at the inaugural session President Dekle, talked on Fostering Development of Leadership & Success Skills for the Polished Professional, as the workshop exposed participants to how they can be more effective in their workplace.
The President, a reputed international educator and former leadership expert with McKinsey & Company, used different approaches to engage the alums, including having them interact with one another, using case studies, questionnaires, role plays, and video clips.
Noting that they already have the hard skills by virtue of their degrees, Dr. Dekle emphasized the need for the young professionals to develop their soft skills.  These include teamwork, having the right work ethic, communications skills, empathy, respect, and integrity--things that are also not in the curriculum or being expected to be taught.
"Often you are hired for hard skills, but when you get into troubles, you are often fired for lack of soft skills."
Her presentation also touched on the use of communication tools in the workplace.  "There is a place and time to use phone, e-mail, and in-person meeting.  E-mail is for non-urgent matters, phone is when you really do need the voice tone, and in-person is when you need to pick up the non-verbal clues", she said.
She went on to give tips on how they can succeed in job interviews, stressing that they need to work on their weaknesses.  One of the tips she gave was for the interviewee to make it more about the employer.
"A classic mistake for somebody who is being interviewed for job is to make it all about you."
Other aspects of her presentation include communication across cultures, high-context communication (found in Eastern/Asian cultures, for example) vs. low-context communication (found in Western culture), and reflection learning. She also shared tips on how to remain professional in the workplace:  "Titles don't honor men, men honor titles.  Say what you do and what you are responsible for.  When you are introducing yourself, don't say I'm Director of… say I'm responsible for…."
Peter Paya, who coordinated the Alum College event, said the workshops would give all participating alums an edge in the industry.  "I am here today not only because I am an alumnus, that is good, but as someone that not only wants to get better, but wants to be the best."
Mr. Paya hinted that in subsequent editions of the Alumni College, AUN professors would engage alums and give them life survival tips.
Mary Igbazua, an alumna who graduated in 2010 and now works in the School of Business & Entrepreneurship, said the Alumni College is both a learning opportunity and a networking platform.  She was excited to meet an old school mate, Maryam Lawal.  "We are becoming school mates again…  You can never underestimate the importance of being connected and communicating with one another."



By Omorogbe Omorogiuwa