At the SBE Research Seminar Series held on November 24, two professors from the School of Business & Entrepreneurship presented their most recent research work.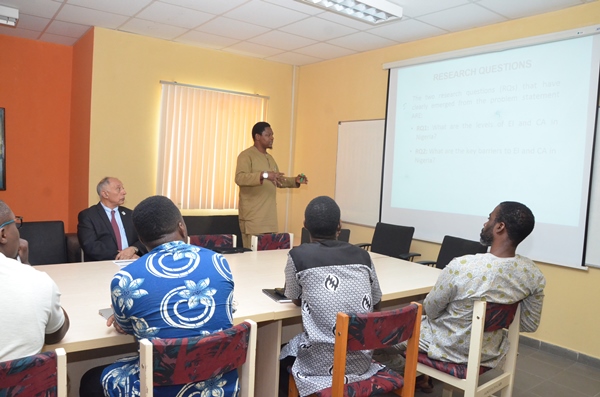 Dr. Lukman Raimi and Dr. Hassan Yusuf investigated "The Place of Nigeria within the Global Innovation Ecosystems: A Critical Discourse of Entrepreneurial Innovation and Competitive Advantage in Emerging Economies."
Dr. Raimi said they did a systematic extraction of data from scholarly works and reports of the Global Competitiveness Index that spans ten years, from 2008-2017.
In this study, they found that Nigeria manifested low entrepreneurial innovation and competitiveness on the Global Competitiveness Index, whereas other African countries with lesser economic resources did comparatively better.
At the seminar presentation, Dr. Raimi listed factors that hindered Nigeria's competitiveness. Among the key barriers are infrastructural neglect, lack of strong regulatory institutions, weak macroeconomic environment, weak technological readiness, poor business sophistication, and low innovation among others.
He said the motivation for the research was in response to the 6th International Conference on Innovation & Entrepreneurship on March 6, 2018, in Washington DC, where they intend to make the presentation.
Dr. Lukman Raimi holds a doctoral degree in Entrepreneurship & CSR, from De Montfort University, Leicester (UK). He is also an alumnus of the Entrepreneurship Development Institute (EDI), India.
Dr. Yusuf holds a Ph.D. in Strategic Management from Usmanu Danfodiyo University, Sokoto. Before joining AUN, Dr. Hassan lectured in the Department of Marketing, Federal Polytechnic, Bida, Niger State.


Reported by Omorogbe Omorogiuwa