On November 27, on invitation, President Dekle donned her teaching garb and picked up the chalk again after several years in administration.
It was Prof. Bill Hansen's Political Theory (ICP 161) class.
"I am so happy to be here. I missed the classroom and today I really love being your teacher," said Dr. Dekle, as she addressed the students. "When I hear stories from Professor Hansen and other professors about the joy they have with you in their classrooms, I miss it because it is magic that happens."
It was also a fun time for the students as each received a packet of M&M candies, courtesy of the President. After that, she screened a TED Talk video by Ziauddin Yousafzai, father of Malala, the Pakistani child activist. The video gave an insight into how the daughter became so amazing and his perspectives on how society treats the famous young woman.
The class discussion centered on gender issues such as feminism, women rights, and women empowerment. Dr. Dekle also talked about her experience as a female who is a leader and her experience growing up as a woman.
Reflecting on the TED Talk, she said her father was like Ziauddin since she had the opportunity to go to school and explore.
"My parents guided me to pursue what was interesting to me. For me, it didn't occur to me that boys and girls might have been channeled in different directions because I didn't grow up that way."
And then the class discussion began. Most of the female students were very concerned about why a woman is required to marry and expected to live in the marriage, why culture should decide that a woman lives in a man's house as the norm, and how the society has accepted man as the standard.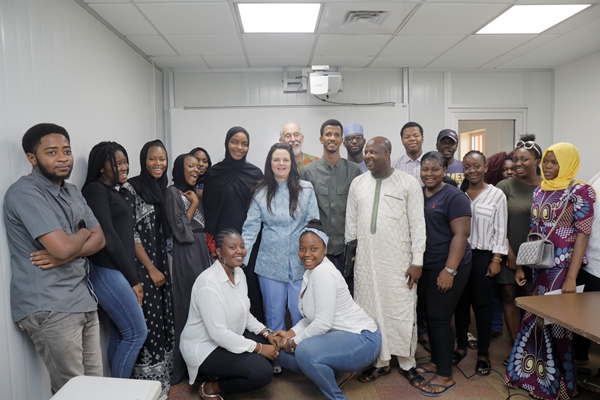 It was an intensive class interaction. Dr. Dekle said that is what it is like in an American university classroom, that students come prepared to share their ideas, opinions, and viewpoints, and are open to others perspectives. She said the students had informed opinions on the issues discussed.  She was proud of them for the courage it takes to test their ideas in the classroom.
"And that is what you are supposed to be doing in universities. Credit goes to your instructor for creating this safe, open, and tolerant learning environment."
After the intensive class discussion, she read one of her favorite poems, "Still I Rise" by Maya Angelou, the famous African-American.
Reported by Omorogbe Omorogiuwa