Government Day Secondary School (GDSS), Yola, on December 15 played host to a team from the AUN Community Cooperative Society.
The team led by the Society's Vice President Kuve Vandi was at the school to present scholarship award letters to 150 students of the senior secondary school section.
Ms. Vandi said she was happy to be at the school and advised the students to do better. "I want you to take advantage of this support and do better in your academics."
The Society's Social Welfare Committee chair, Benjamin Musa, said the gesture was in tandem with the AUN core philosophy of entrepreneurship and development. "It is not the first time we are reaching out to students in this manner; we hope to do more," he added.
"The money donated for the school fees is from the Society's profit in 2016; at the end of every financial year, we use part of our gain to help our community as a social responsibility initiative," he said.
Mr. Musa, an Assistant Director in the Events and University Publications Office, also noted that the award was to reward the strong ones among the students and to encourage and inspire the weaker ones, that they too can become stronger with discipline and hard work.
The Principal of the Senior Section, Government Day Secondary School, Umar Sadiq, said he is always happy to see people who have concern for the less privileged. "In fact, this is the first time I'm experiencing this kind of gesture since my tenure in office."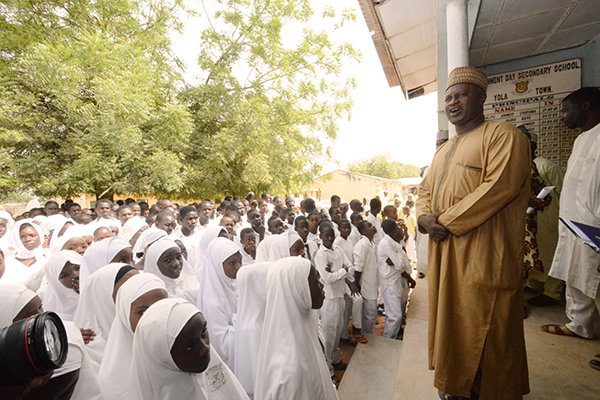 He said this gesture would encourage even the parents of the students: "The parents will have no fear of having their wards chased out of school due to non-payment of school fees for the next two terms. There will not be any reason for them to miss their tests and exams anymore," he added.
A student in SS2 and one of the beneficiaries of the award, Miss Happy Edward, said she is indeed honored and privileged. "I will encourage all the students that have received this scholarship like me to study hard so that next time they will get more than this and I thank the AUN Community Cooperative Society for remembering us and coming to our school," she added.
The total school fees for each beneficiary is ₦2, 000.
Reported by Nubwa Ibrahim