On December 2, the School of Business & Entrepreneurship (SBE) brought in business owners and entrepreneurs in Yola for a seminar on how to grow and diversify their businesses.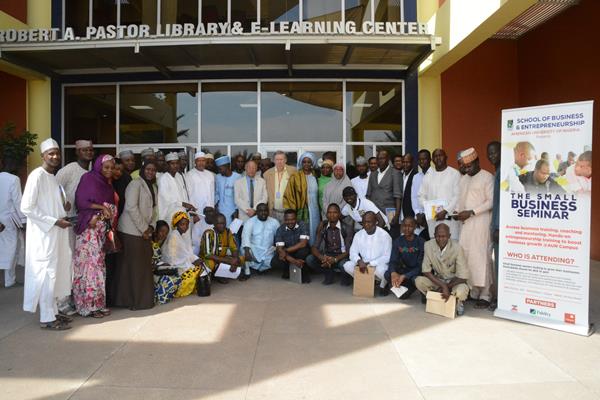 The small business seminar, which was formerly called the business clinic, provides, among other things, the opportunity for small business owners to gain valuable knowledge about how to identify excellent business opportunities, markets, new techniques to market products and services, and also how to grow from mere business owners to effective entrepreneurs.
Dean of SBE, Dr. Attahir Yusuf, in the first seminar lecture spoke to business owners about growth as a cornerstone of any vibrant business. He said, "Many entrepreneurs fail to achieve the vision of growth because they are unable to transform themselves from business owners to entrepreneurs." The Dean cited examples of well-known successful entrepreneurs such as Bill Gates (Microsoft), Mark Zuckerberg (Facebook), Larry Page (Google), and Steve Jobs (Apple), who were able to remain at the helm of affairs as their companies soared to extraordinary heights.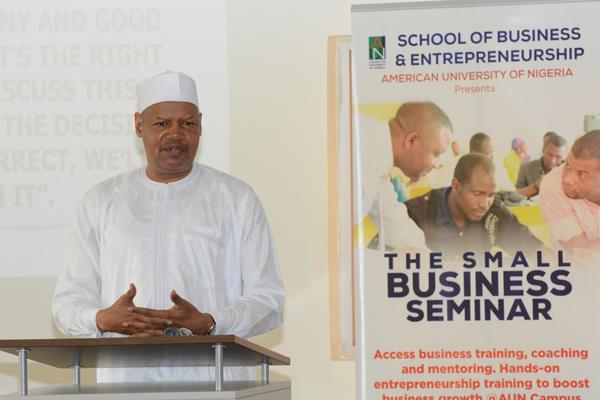 President Dawn Dekle, who was represented by Provost Muhammadou Kah, welcomed the business owners and highlighted the fact that AUN has a diversity of competencies in SBE. Prof. Kah said, "We want to share the expertise and talents we have at AUN and SBE to help business owners grow their businesses."
He said that AUN would support business owners to succeed because "we all know that small businesses are the ingredients of economic development and growth; those small businesses contribute to the prosperity, progress, and quality of people's' lives, uplifting people out of poverty."
Chair of the SBE committee that organized the small business seminar, Dr. Ferdinand Che, explained that these workshops contribute to the achievement of AUN's core mission of entrepreneurship and development. He said that SBE continuously seeks to assist businesses in Yola to prosper.
He added, "The small business seminar presents an opportunity for business owners to reflect on how they run their businesses, to network with other business owners, and to pick up new techniques and best practices that they can implement and help their businesses grow and prosper." The existence of the university must be meaningful to the community.
"With the knowledge, the business owners gained at the seminar, they now know the difference between a business owner and an entrepreneur and what it takes to transform themselves to be more entrepreneurial and to build effective alliances."
Reported by Nubwa Ibrahim