The Stallions galloped to victory at the 7th Nigeria Private Universities Games in Abuja, and the AUN Community is ecstatic.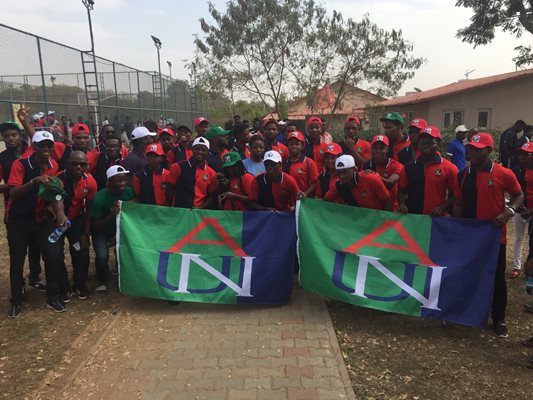 In spectacular fashion and living up to their pre-tournament billing, AUN won three gold medals, eight silver medals, and six bronze medals.
AUN men won Gold both in 800m and in Chess. The female team bested all comers in the prestigious 4x100m relay.
Winning the shiniest medal in Chess, the acclaimed 'Strategy Sport', cements American University of Nigeria's reputation as the intellectual capital of Nigerian private universities.
President Dekle has described the Stallions' feat as 'amazing' and a 'testament to discipline, training, and commitment, core to our values as a learning community.'
Director, Residence Life and leader of AUN's contingent, Abdullahi Bello, described the medals haul as "our best ever in the history of NPUGA".
The Stallions clinched the gold medals in 800m (male), classical chess (male), and 4x100 relay (female). They won silver medals in 100m (male), discus (male), triple jump (male), 100m freestyle swimming, javelin (female), as well as in individual chess, individual scrabble, and team chess.
The Team also won bronze medals in table tennis doubles (female), table tennis doubles (male), basketball (male), badminton singles (male), blitz chess, and team badminton (male).
The games, which began on December 7 at Nile University, ended on Wednesday, December 20.

7th NPUGA – AUN's Total Medals Haul
EVENT

MEDAL

WINNER (S)

800m - Men

Gold

Nasir Muhammad

Classical Chess -  Men

Gold

Dillon Onyemelukwe

4x100m - Women

Gold

Vivian Amah, Eyitayo Elizabeth Oyegoke, Patience Okaka & Habiba Ishaya

100m - Men

Silver

David Etuk

Discus - Men

Silver

Chukwuma Onwujiaba 

Triple Jump - Men

Silver

Joe Nweke Ikenna  

100m Freestyle Swimming - Men

Silver

Olugbenga Jacobs

Individual Scrabble - Female 

 

Silver

Lucia Gege

Individual Chess - Men

Silver

Emeka Charles

Team Chess - Men

Silver

Chidera Nweka, Nasir Muhammad , Emeka Charles, & Dillon Onyemelukwe

Javelin - Women

Silver

Bwama Fwa

Doubles – Women

Bronze

Abigail Odette & Bwama Fwa

Doubles – Men

Bronze

Emmanuel Olakunle & Ibrahim Babatunde

Basketball – Men

Bronze

Osaze Eruedu, Mafeni Odegholo, Richard Ekene, Kazayet Zachariah, Emmanuel Godwin, Sanni Adeleke, Dillon Onyemelukwe, Ayuba Nuhu, Ibrahim Bima Mohammed, Abbas Oroh & Joe Nweke Ikenna

Badminton Singles – Men

Bronze

Peter Bankole

Blitz Chess - Men

Bronze

Dillon Onyemelukwe

Badminton Singles – Men

Bronze