A social entrepreneur, Verse Shom of the Class of 2009, believes Nigeria can benefit from Poverty Stoplight, a visual survey technique used to evaluate and eliminate poverty at the household level.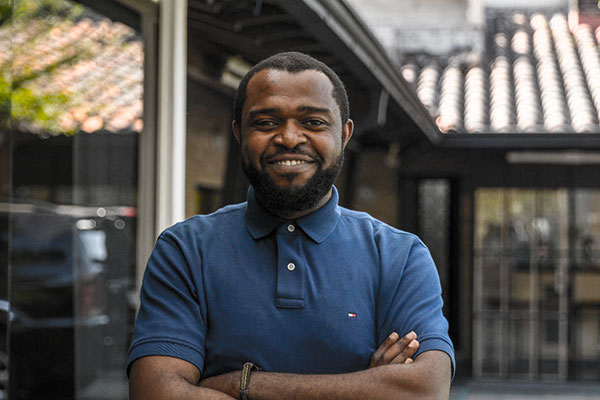 Contributing to the ongoing Twitter Chat Series with AUNigeria on "Social vs. Business Entrepreneurship: Is Nigerian Education Sector Ready?" Mr. Shom tweeted, "Given the rising influence of technology, data, and more recently Artificial Intelligence (AI), poverty can be reduced in Nigeria."
With the right information or data, from his experience working as a specialist in international replication under Fundación Paraguaya, a non-governmental organization in Paraguay, South America, Verse is positive that the self-assessment tech tool can guide government policies in tackling poverty by understanding an individual's level of deprivation.
"It is globally accepted that poverty is multidimensional, affecting individuals and families in unique ways and that people can lift themselves out of poverty when motivated."
According to estimates, Nigeria has at least 100 million people living in extreme poverty, ranked third by the World Bank behind China and India as the countries with the largest number of people in extreme poverty.
It is possible that many young Nigerians are not interested and lack the motivation to pursue social entrepreneurship as against business entrepreneurship. Irrespective of the underlying problems bogging the system, he said, "An educational system that is meant to nurture social entrepreneurs must be focused."
As a beneficiary of the liberal arts education of AUN and Tulane University (from where he earned a Master's degree in International Development), Mr. Shom said the education system in "Nigeria needs to move from simply teaching theory to engaging students in tackling real-life problems. And this can only be achieved through experiential learning methods."
The freedom to explore, engage, and recreate radical ideas are advantages that both AUN and Tulane University offered him as a student.
One of his most passionate tasks as a social entrepreneur is leading impact on projects such as the 'self-sustaining' high schools in Paraguay where children of poor farmers are trained to become rural entrepreneurs. With a success rate, the self-sustaining school model is replicated in London.
Verse charged young Nigerians on social innovation and businesses to create tailored solutions that address poverty-related problems. Governments, he said, need to design and implement policies that address specific needs towards achieving the sustainable development goals.


Reported by Nelly Ating