On February 27, Political Counselor at the Embassy of the US, Matthew Purl, told the AUN community that Nigeria's huge population could be in its favor.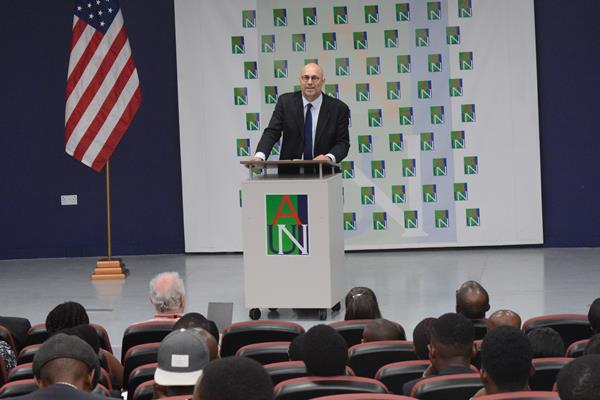 Mr. Purl, who addressed an audience that included students of the neighboring Nigerian Law School, said it is possible for Nigeria to be a global superpower since it plays a very positive role in West Africa.
He said the population of the country is huge like that of China and is rapidly growing. "China 40 years ago was not really an economic power. They were a huge population.  They turned that around."
Mr. Purl said in the next decade, the world would change in unpredictable ways. He maintained that if Nigeria remains unified and focused on economic development and education, the huge human capital here could work in its favor.
"Nigeria today is a stable democracy and setting that example for the region in Africa, which is a big thing for Africa and the rest of the world."
And the growth of Nigeria should make the U.S. adjust accordingly, causing the world to move ahead.
"You are going to be bigger than the U.S. in a couple of decades, we think. And we simply have to deal with that because of the economic weight you have in Africa, because of the political influence you have throughout Africa. That's part of our adjustment process."
Lauding the European Union as having made Europe a global power, he said the United States wants to see other countries become prosperous. He recognized Nigeria as a leader in Africa.
"Nigeria is absolutely a superpower of Africa. And we are hoping Nigeria would play a constructive role politically and economically throughout Africa. We are also hoping that China would play a constructive role in Asia, the European Union is obviously a success in the entire world.
"These are developments that we want to see. We want to see other parts of the world growing economically, stable and prosperous. It's good for us. But it creates a natural tension. How do we, as they expand and expand their power and want to exert themselves, how do we adjust to that."
Reported by Omorogbe Omorogiuwa