Students of Entrepreneurship Field Experience (ENT 201) have launched two businesses on campus.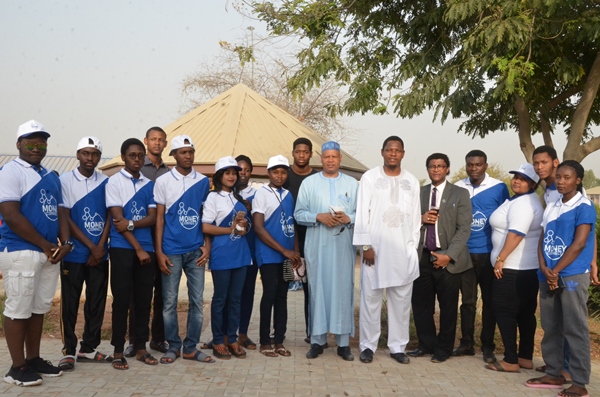 They identified a need on campus and designed a business solution to fulfill the need.

Two student groups conceived Munch Spot and Money Connect that were voted as the best by their peers. Other students had joined forces with one or the other of the two winning groups. Both firms received $5,000 apiece as startup funds. Typically, ENT 201 students first take an introductory course in which they learn the fundamentals of entrepreneurship and a business plan.

At the March 7 launch of Munch Spot and Money Connect, the course instructor, Dr. Lukman Raimi, said ENT 201 entails that students will translate what they have learned in the classroom into action.

"Just like other courses, it has a classroom component: four weeks of learning the rudiments of starting a small business. We started by identifying so many ideas, which were then screened. In the end we chose the best two business ideas."

The transferable skills to be acquired during and after ENT 201 include environmental scanning, opportunity identification, idea screening/sifting, and business concept development.
Others are business plan writing, risk taking, people management, consensus-building, finance & financial management, book-keeping & reporting, and crisis management. He said the students will find these skills helpful in their working lives.

"If they want to work in corporate organizations, some of the things they have learned will come in handy."

Dean of SBE, Dr. Attahir Yusuf, said AUN prepares students for the challenge of societal development.

"When we talk about development, we are taking it from all perspectives--economic, social, cultural, and political. For us in the economic aspect of development, we try to promote self-sufficiency in terms of impacting on our students' knowledge and experience to not only work for others but also to set up their businesses and work for themselves."

CEO of Money Connect, Johnson Afemikhe, a second-year Entrepreneurship & Management major, said their business is an integrated service provider that deals with monetary and telecommunications services. "We also deal with orders and delivery of accessories like phones and laptops."

CEO of Munch Spot, Exploits Nicholas, a final-year Entrepreneurship & Management major, said they found a need to provide more varieties of snacks for students such as shawarma, pancakes, zobo, smoothies, and mojitos. "We plan to give students another taste of what they don't get at the cafeteria. We did our research to come up with this."

Both companies have elected executives and have strategized on how they can reach their target markets.

Reported by Omorogbe Omorogiuwa