On March 15, students had another online session with their counterparts from the American University of Cairo via a video conference set-up.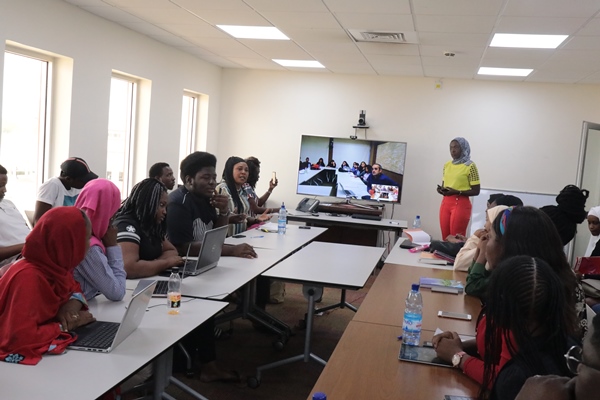 The conference is held twice every semester. Dr. Agatha Ukata and Dr. Fahmy Menza are the respective facilitators from AUN and AUC.
Dr. Ukata invited students registered in her current writing and literature classes as well as those who have taken her classes before.
The aim of the joint session is to offer comparative views and diverse perspectives on the global south concept as well as to encourage interaction between students from AU Cairo and other universities around the globe.
The topics normally discussed range from current, local/regional events to a wide variety of global socioeconomic, political and cultural issues.
Each session is interactive, and comes with a new theme to which student participants can freely contribute. This was the second session this semester, and centered on Gender Relations in Egypt and Nigeria.
The session gave Accounting major Samukelisiwe Mzindle the opportunity to know more about gender discrimination from both her colleagues in AUN and her counterparts in Egypt. Her take-away from the dialogue is that women are actually the ones who are suppressing themselves because of what they have been taught right from the home.
"I'm surprised that some women who want equality are against each other by not believing in their ability to do what men can do."
First year Law student Naomi Derego said she enjoys having the interactions and getting the views of other participants. "I always get better informed after the presentation."
Dr. Ukata expressed delight in the theme, which she described as interesting. "It is a clarion call for women to wake up from their docility and start thinking about how they can contribute more meaningfully to the society."


Reported by Celine Augustine