The life and struggles of late anti-Apartheid icon Nomzamo Winifred Madikizela – Mandela came alive at AUN at a memorial service in her honor on April 12.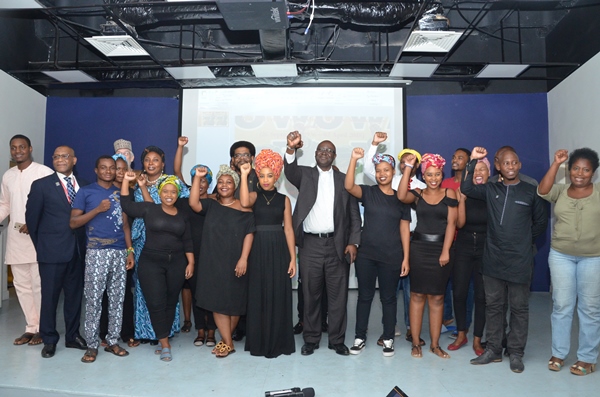 Winnie, the ex-wife of the late President of South Africa Nelson Mandela, died on April 2, age 81.
 
AUN's International Students Association in collaboration with the South African members organized the evening of solidarity songs, tribute, poems, and personal recollections.
 
South African students – Jeremiah Sello Mafokoane, Ntuthuko Buthelezi, Kebone Mofokeng and Alex Gekpe - took turns to deliver stirring eulogies in honor of the 'Mother of the Nation.'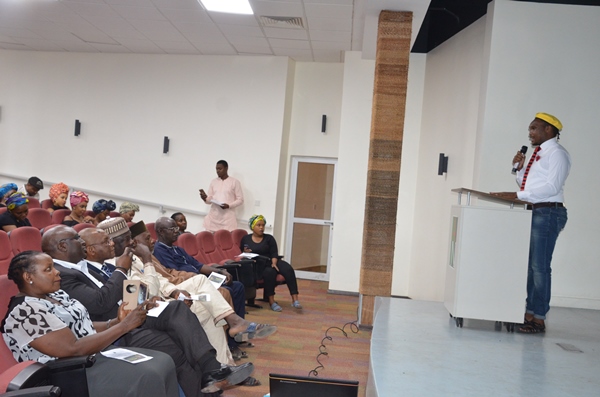 ICP major, Alex Gekpe, told how his mom once described Winnie Mandela: "My mum painted a picture of Winnie as a woman who breathes out fire, "a brave, courageous and assertive person who had this unique multi-generational reach in Africa and beyond."
 
Another ICP major, Luyand Khanyile, said that Winnie was a revolutionist for the right of women in general. She didn't die; she multiplied because I am Winnie Mandela."
 
Petroleum Chemistry major Ms. Kebone Mofokeng, recited a poem for Winnie, from the work of Vangile Gantsho.
 
Paying his respects, the Provost and VP of Academic Affairs, Professor Muhammadou Kah, described Winnie as a formidable and phenomenal heroine, whose commitment, contributions, leadership and centrality to the resistance to Apartheid is second to none.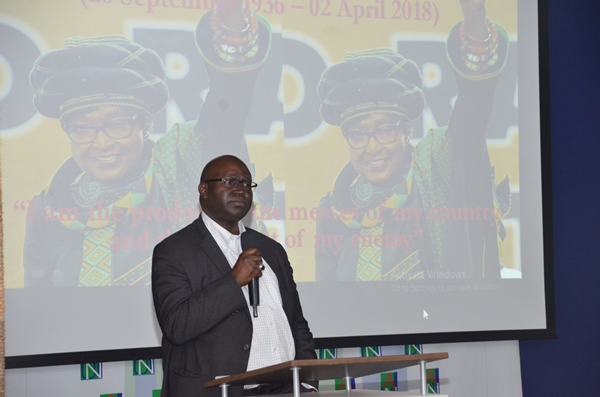 Provost Kah eulogized Winnie who he said represented the Peoples of South Africa to her death, spoke up against injustice regardless of who was in power; a brave, driven, courageous and selfless woman, who stood firmly and said No to oppression.
 
"We all grew up seeing her as a symbol of hope, selflessness, courage, strength, passion, enthusiasm, dignity, with a huge capacity for leadership and a relentless quest and commitment for freedom for her peoples.
 
"She never claimed to be perfect in her approach and tactics to activism and demands for the human rights of her peoples, especially when the heat was up and intense, and within the context of the brutality of the apartheid regime. She stood firm to the end! Indeed, her spirit lives on, and through you, she multiplies".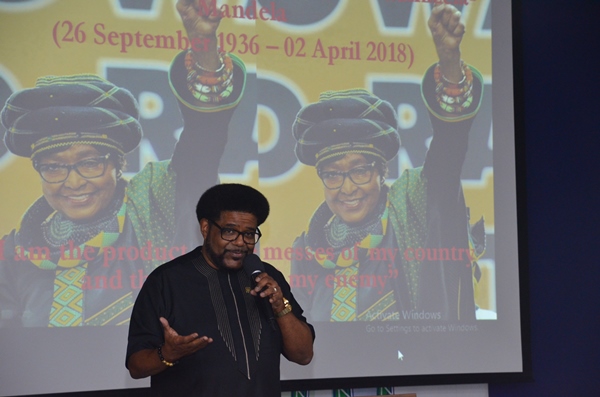 Other dignitaries who spoke are the VP of Students Life Bullock Byron, who narrated a memorable encounter with the late activist in her hometown of Soweto and Mr. Byron's native United States; chair of English and Literature department, Dr. Agatha Ukata described Winnie as "an Amazon of hope, a voice for women and change agent."
 

Reported by Celine Augustine