On May 8, a delegation of the Northern Youths of Nigeria (NYCN) visited AUN. It presented an award to Vice President for University Relations, Mr. Abba Tahir, for his selfless service to humanity and impact on education.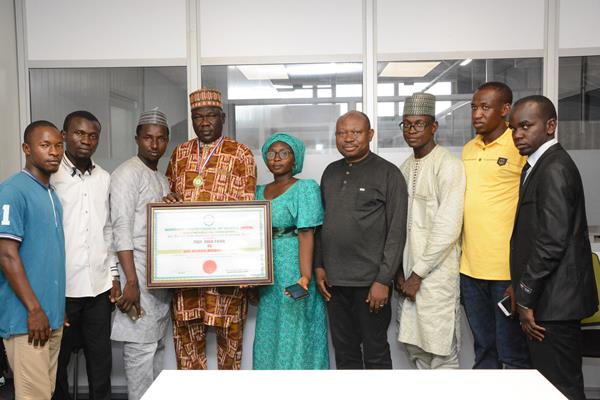 The recognition includes a plaque, a medal of honor, and a title, Dan Masanin Matasan Arewa, which means "the learned of the youths of the North."
NYCN National Vice President, Mr. Isah Abubakar, who was represented by Mr. Musa Usman, explained why Mr. Tahir was fit for the award. He said it was to appreciate, encourage and support him for his humanitarian services and great impact on education.
He cannot go unidentified and we want to tell the whole world what he has done not just for education but to the society at large."
In a vote of thanks during the award presentation, the Director of Communications, Mr. Innocent Nwobodo, assured NYCN that it made a right choice in Mr. Tahir who he said pushed him to take a major career move to the North in 2009.
"You have not misplaced your trust; Mr. Tahir is worthy of this award. He may not be the money man, but he has a lot upstairs, and he will not fail you."
Mr. Tahir responded with gratitude and promised to do his best at all times. "I feel excited and feel an additional burden of responsibility to engage in more humanitarian work, to redouble my efforts more than ever before to serve the community, humanity, Nigeria, and the world."
NYCN is a Borno State based NGO that creates platforms for the coordination of youth with the goal of promoting peace, unity, and tolerance. The pro-peace organization has organized activities such as a sensitization workshop for young people on voter education which was held in collaboration with the Youth Federation for World Peace in 2011.
Reported by Celine Augustine