The Spring 2018 course connection facilitated by the Global Liberal Arts Alliance between a writing class at AUN and an English class at Forman Christian College, Pakistan, was worth it for the first-year students participating from both institutions.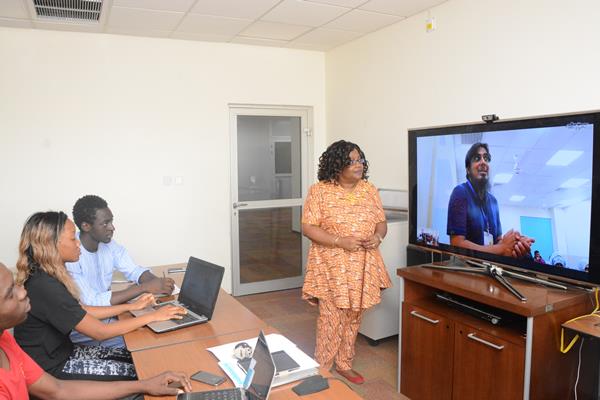 Instructors from both schools supervised the program, and students were grouped in twos and threes. 
After it was mutually established that sensitivities were off-limit, the matchmaking was gender-blind, age-blind, but institution-bold. The course-connection exercise was successful and effective because it enabled AUN's WRI 101 students to rub minds with students from an external learning environment. It broadened the scope of the Freshman Composition course, to both the students and the Instructor.
On the very first day of the course-connection program, after the initial greetings from the instructors, we stood up one after another, to introduce ourselves during the Skype exchange, stating our names, our majors at AUN and our places of origin. The Conference Room met the audio-visual needs of the program and communication went smoothly.  AUN's WRI 101 students didn't ask the Forman students about their ID cards, although we could see their Instructor's ID card hung around his neck. The purposes of the connection adventure included learning how to appreciate students in another environment, holding question-and-answer sessions on shared topics and assignments, sharing perspectives about (liberal arts) education in another country, fostering inter-institutional partnerships and embracing perspectives from different cultures.
Through the course connection exercise, we had an interesting glimpse of our classrooms on a Skype-aided projector; and learned so much about ourselves. We felt compassion when we realized that most of our partners were not privileged to live on-campus or get the same level of Wi-Fi connection that we have here at AUN.  AUN's WRI 101 students cared about faith, not just because faith counts towards dressing, but also because we have faith-based fellowships here on the AUN Campus, and we found out that at Forman, there were also students of different faiths. Other similarities include being the only liberal arts institutions in our respective countries, being situated in zones occasionally (erroneously) associated with negative reports and having learners whose first language is not necessarily English. One major difference was the time zone as they are four hours ahead of us. Interestingly our respective countries have Nobel Prize winners:  Malala Yousafzai and Wole Soyinka.
Thankfully, our instructors found a balance on when our shared class meetings could take place. We had issues understanding their lovely non-Nigerian accent at first, but eventually got used to hearing them speak that way. Prof. Fahad Aftab, the class teacher, was always on his feet; always at alert to ensure that there were no communication hitches. Prof. Emilienne Akpan at our end also stabilized the environment and sustained the enthusiasm of her students during the course connection program.
Our last class was very merry, and AUN's WRI 101 students sang a "Hausa Greeting song" to the Forman students over Skype. This was appreciated by our counterparts who shared the Pakistan national anthem. Naturally, we sang our anthem and recited the pledge in return. There were a lot of laughs as we interacted, but we will keep the friendships going through personal Skype IDs, WhatsApp, Instagram, Twitter, and Snapchat.
The course-connection program featured shared instructional topics, introductory emails, stories developed to reflect patterns of development, and GLAA's pre-test and post-test surveys about the project. It was a fantastic experience.
Reported by Victoria Toluwase Ifeolu