Everyone is now familiar with Benedict Egwuchukwu (Jr.), the Accounting major who emerged as the 2018 Valedictorian.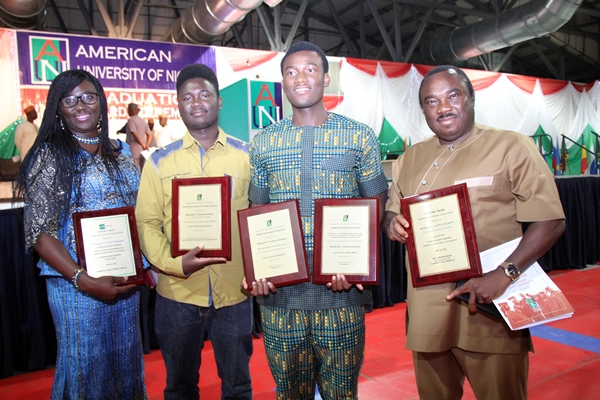 But few know he graduated with a younger brother, Bryan, also an Accounting major. For any parent, it takes a lot of confidence to entrust two family members to one institution for education at the same time.
Beaming with contentment moments after Benedict wowed and dazzled the Commencement audience with his impeccably delivered speech, the proud parents, Egwuchukwu Senior and his wife, Bridget, affirmed their faith in the quality of education offered at AUN. "We would send them over here all over again," they told our reporters.  
The joy of the Egwuchukwus, both entrepreneurs, was understandably palpable. Benedict Junior's academic feat has confirmed that excellence still runs in the family. Counting Bryan, they can also rest in the assurance that the family's legacy is secure. Entrepreneurship is at the core of education at AUN and after four years at Africa's first Development University, they are ready to take on the world.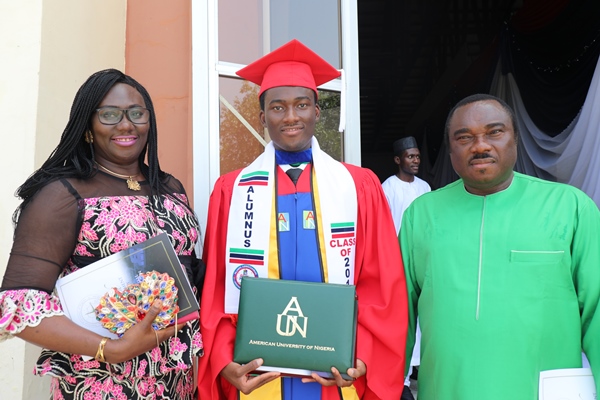 Mr. Egwuchukwu Senior, a Petroleum Engineer from the Federal University of Technology, Owerri, and mother, a first-class Biomedical Science graduate of the Rivers State University of Science & Technology, knew precisely what they were going into when they sent their two bright boys to acquire an education that would develop their entrepreneurial endowment and problem-solving skills.
Going down memory lane, Mrs. Egwuchukwu said Benedict did not show any signs of being an outstanding learner growing up.
"When you say the bright student, he was not first, second or third but he made good grades."
Personal hard work and right nurturing environment that AUN provides must be the reason the Egwuchukwu family are celebrating today.
"It is not every day that parents have two children graduating: one, a valedictorian, the other, a second class upper. I am delighted. I have spent money on training these children. Moreover, we have value for our money. For that alone, I give God all the glory."
The retired petroleum engineer said their son's achievement before now was very modest and he was very reserved as a person.
"His primary and secondary school upbringing was just normal. However, in secondary school, he would have been up there, because I remember they wanted to make him the senior prefect."
Mr. Egwuchukwu explained further, why he particularly loves AUN. He said the American style of education was his attraction. He said they wanted a place that is as close as possible to the educational system abroad.
"I have always been in love with Western education, especially the US and the Canadian systems. That was why we brought him here in the first instance. After the first semester, he harnessed the potential in him from his results. So we had to encourage him."
Mr. Egwuchukwu believes that education has made the West great. "Since I have that system right on my doorstep, I had to grab that opportunity and let my children get into that system and see if they will get what I have always wanted. So now they got it, both of them."
He also believes that AUN sustains that culture of excellence with which it has started.
"I quickly reached for it and grabbed it. I passed through the Nigerian system; it was not that bad, but there was no continuity. When I heard about American University of Nigeria, I thought about the continuity that exists with Western education. I said let me grab a chance and see if something will come out of it. And I believe I have gotten a result."
Reported by Omorogbe Omorogiuwa