Ahead of its first playing tour of Jos, Plateau State, the AUN Staff Football Club and its supporters have unveiled a new set of jerseys.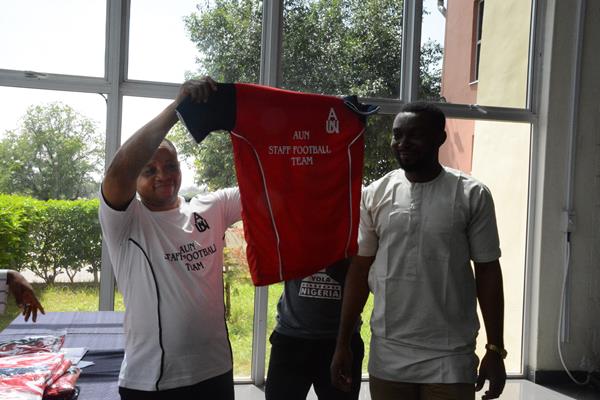 President Dekle led senior management, staff, and supporters of the club to the brief but colorful presentation ceremony held at the Commencement Hall lobby on June 1.

Assistant Vice President of HR & Planning, Mr. Nourah Bamalli, handed the red-blue jerseys to the team's coach, Dr. Charles Nche.

Mr. Bamalli said football is one of the 20 sporting activities that his department is supporting under the Employee Wellness Program.

"The wellness program is one of our greatest contributions to the community because we like our staff to be healthy, mentally, physically, and spiritually."

The team will be playing the University of Jos Staff Football team and the Plateau All-Stars Football team in friendly encounters after a week.

Dr. Nche spoke about the place of sport in the development of an organization. He said the AUN Staff Football team achieves the purpose of creating a bond among staff while attracting good publicity for the university.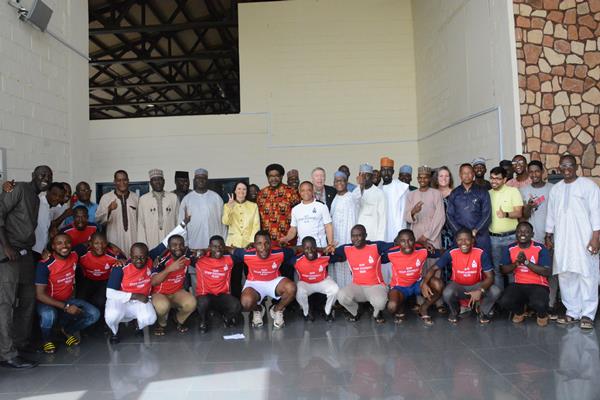 Besides jerseys for the players, shirts were also designed for the team's supporters. The supporters' T-shirts come in white, black, and green. A member of the team and Senior Manager, Campus Store, Mr. Tunde Animashaun, informed staff that the branded were available in the Store.
Reported by Omorogbe Omorogiuwa & Chiedozie Joseph