Sixty pupils--36 from the Kindergarten and 24 from primary--graduated from the AUN Academy (Elementary) on June 6.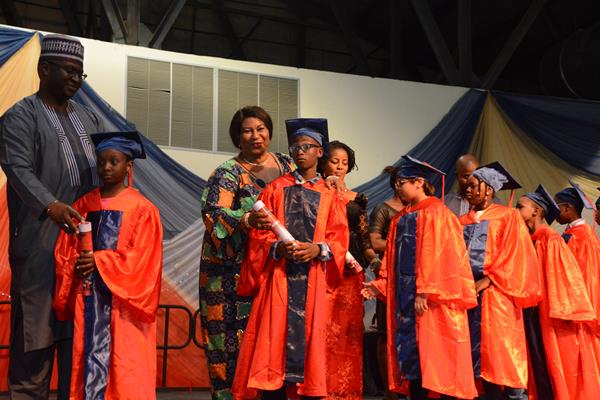 It was also a day for the recognition of achieving students who received Academic Excellence Awards. Beneficiaries were pupils in the top three positions from every class. Two other pupils from each class were also recognized as they received the Most Improved Student Awards and Citizenship Award.
Various activities spiced up the event: These include song, dance drama; cultural dances, poem recitation, and a talk show, all of which were made by the pupils.
"I will never forget AUN Academy (Elementary). I promise to be a good ambassador of the school wherever I find myself," said Mfoniso U.S. Usoh who received the overall best graduating student award.  In his speech, the Valedictorian said schooling at the Academy had been a pleasant experience, one he would miss a lot.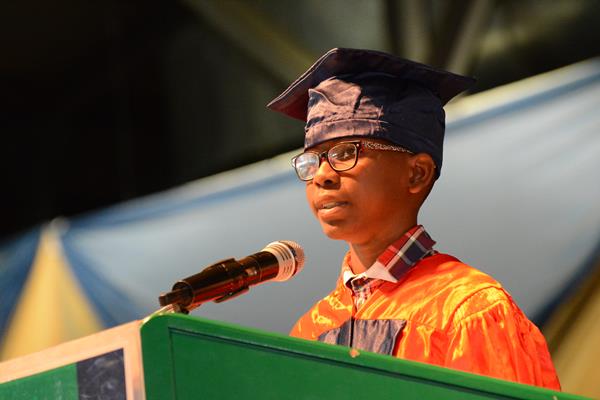 "These teachers have made learning a lot more fun and something we always look forward to."
Master Usoh added that at the Academy, they had been exposed to various learning experiences that include character education, use of sound phonics, public speaking, French, music, and science.
"At AUN Academy, we are taught to reason like adults, ask questions when we are not satisfied."
Father of the Valedictorian, Mr. Usoh Usoh, said he was impressed with his son's achievement. The parent also praised the school on the excellent work in ensuring that they bring out the best in the pupils.
Noting that the children have worked hard to come this far, Executive Director of AUN Schools, Mrs. Nkem Uzowulu, thanked parents for entrusting the children to them and assured them that they would reap the reward of their investment. "They would make you proud."
Director of the School, Mrs. Elizabeth Raymond, reflected on when those infants first came into the school. She said the temporary separation from their parents was a challenge they faced as the children had thought they would miss the love of their parents.  
One of the Grade 5 graduates, Rukaiya Abubakar, said she would live to remember the Academy, especially for her friends and teachers who have made the experience worthwhile.
The VP Academic Affairs, Professor Muhammadou Kah; VP of University Relations, Abba Tahir, and VP of Student Life, Byron Bullock attended the graduation ceremony which was held at the Commencement Hall.
Reported by Omorogbe Omorogiuwa