On June 5, AUN took part in the global celebration of the World Environment Day.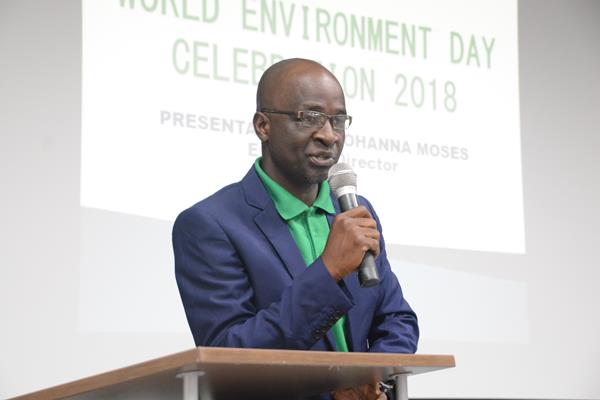 The Office of Sustainability with Environmental Care Foundation (ECF) invited concerned people including members of the Environmental Community Development Service Group of the as well as students from the Yola surroundings for a sensitization seminar.
The Interim VP Finance & Administration, Mr. Olanipekun Olanrewaju, called on the audience to live responsibly. "It is our responsibility to live in a way not to upset the earth's ecological balance." He stood in for President Dekle at the Earth Day celebration.
The theme for this year is "Beat Plastic Pollution."
In his presentation, Executive Director of ECF, Yohanna Moses, listed measures to combat plastic pollution. These include "shop friendly," a term that refers to not taking so much plastic materials when shopping. He noted that while it is going to be challenging to eliminate plastic because it is cheap and durable, its use can be reduced. Mr. Moses also stressed the need to reuse plastic bottles.
Mrs. Jennifer Che of the Natural and Environmental Science program demonstrated how people could reduce the use of plastic wares. The environmentalist explained that they could use their bags when going to market instead of acquiring new ones every time.
A students' debate on whether plastics are a blessing or a curse spiced up the event.
A retired civil servant, Madam Rebecca Kwabe, said she found the event very enlightening and would love the next edition to have more government people attend.
Complimenting the earth day celebration, Mrs. Galaxy Thami of Hope and Rural Aid Foundation, expressed willingness to join in promoting the recycling initiative that AUN has pioneered in Adamawa State.
Many environmentalists received awards at the occasion. They include Peter Eguwede, Jennifer Che, Raymond Obindu, Yohanna Moses, Cecilia Yohanna, Esther Tsamdu, Jimmy Wusa, Betsy Molugo, Emmanuel Osigy, and Olurotimi James Ogundijo.
Reported by Omorogbe Omorogiuwa