The 10th graduation ceremony of AUN's Academy on July 22 turned out a celebration of excellence.
AUN Academy's Graduating Class of 2017 with Executive Director Mrs. Nkem Uzowulu
The institution's remarkable success story, especially in recent times, attracted a large crowd of parents and guests who took turns complimenting the school's administration for a successful uplift.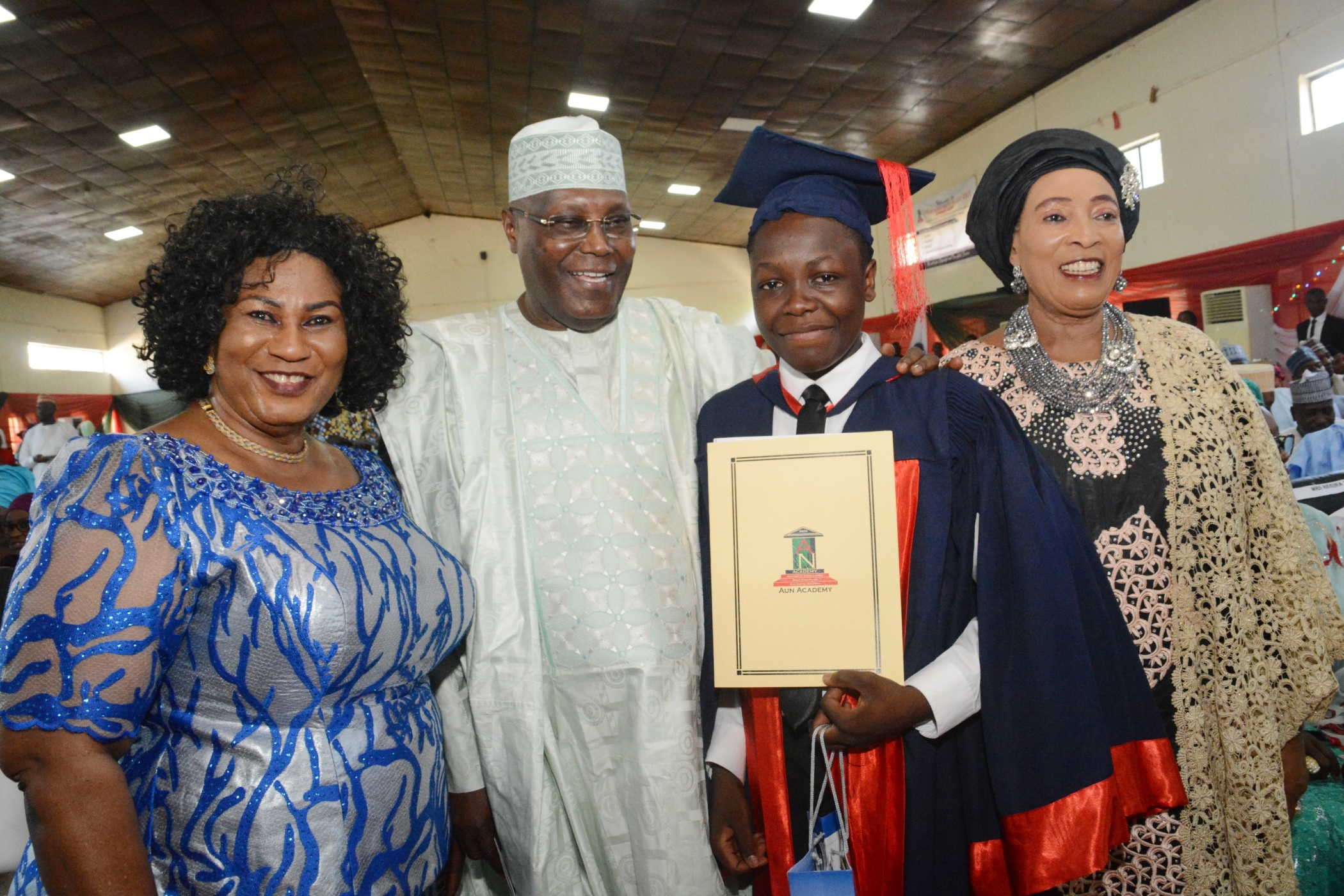 Founder H.E Atiku Abubakar and wife Titi (r) strike a pose with best graduating student Pascal Gapsionso and Mrs. Uzowulu (L)AUN Founder, H.E. Atiku Abubakar, GCON, his wife, Titi, the Deputy Governors of  Adamawa and Borno states, Martins Babale and Usman Durkwa respectively, as well as the wife of the Lamido of Adamawa, were among the dignitaries who graced the occasion.
Pascal Gapsionso Dogo emerged best graduating student, receiving eight academic awards while an outstanding Bilkis Amin Rufai, the outgoing Head Girl, took home seven awards.  Nine top scorers in the 2017 Unified Tertiary Matriculation Examination were also recognized.  Aliya Usman was the highest scorer with 277.  She is now enrolled at AUN.
Other prizes handed out include Outstanding Prefects Awards, Behavioral Awards, and Exceptional Leadership Awards.
Executive Director of AUN Schools, Mrs. Nkem Uzowulu, encouraged the new graduates to continue their work hard.   
AVP of Marketing and Recruitment, Julius Ayuk Tabe, was the guest speaker for the occasion.   Delivering his talk, entitled The Power of Three, Mr. Ayuk Tabe identified three kinds of people: the movers and shakers, those who discuss what happens, and those who wonder why things happen, encouraging the graduates to strive to be actively involved in the society.   
It was an unforgettable day of hugs and laughter for all 51 graduating students of the school, including four students from the American Track.


By Anthonia Uzoukwu