December 2 marked the grand finale of the Fall 2016 AUN 101, the First Year Experience seminar.  It was a fun-filled day for the over 240 first-year students who joined AUN in August 2016. Each student eyed the championship trophy and medals in the hope of being crowned "AUN 101 Champion!"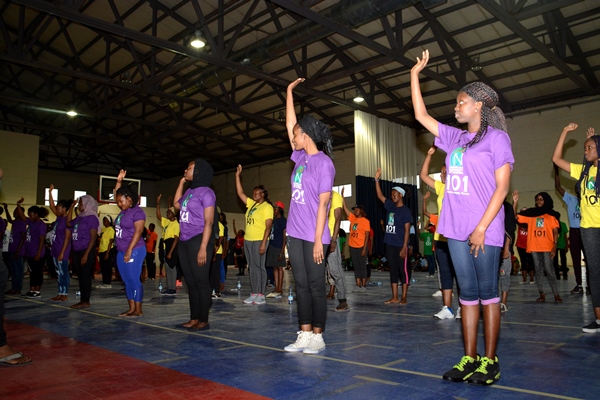 The battle was among all seven sections which included their midterm grade average along with various sporting activities:  a relay race, basketball free throw, football bouncy contest, and a final game of "mental toughness."
Before kickoff, Provost LeGene Quesenberry joined the students and urged them to do their best in the competition as well as in their academics.
In their radiant AUN 101 T-shirts, all team members were eager.  The instructors of each class section inspired their teams to "go for it!"   The team members cheered for each mate who participated in each activity.  The program coordinator, AVP Reginald Braggs, was the "non-judging" officiator who energized all sections to reflect on their introduction to AUN 101 in August and realize the time has come to "do your best and go for the gold".  Students, staff and faculty members gathered to watch the championship and the crowning of this semester's AUN 101 FYE Champion.  
The event started with energy, fun, and lively music by DJ Maestro (Abdul Kosemani).  After a challenging day of competition, laughter, and stress, Section Six, taught by Assistant Registrar Hauwa Abubakar, was pronounced the champion of the day.  Upon winning the championship each member received a gold medal and the honor of hoisting the AUN 101 Championship Cup.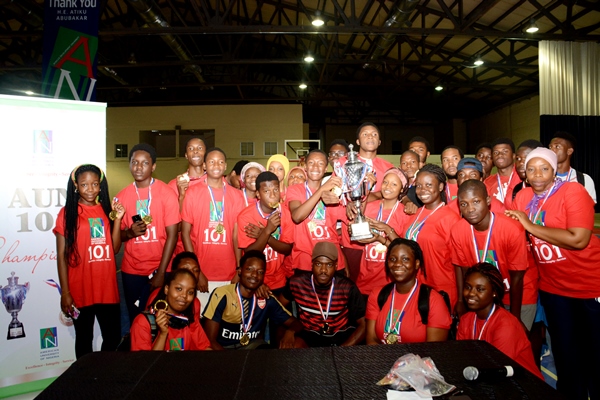 AUN 101, the First Year Experience course, is mandatory for all students.  It is designed to help students transit from secondary school into the University.  This course serves to introduce students to the American style of teaching, AUN's development university philosophy, as well as skills that will assist the student to succeed both academically and socially.  This particular event was a great camaraderie builder for the individual sections but even more for the class of 2020/21.
By Omorogbe Omorogiuwa