The Nigeria ICT Literacy Foundation (NILF) is an non-governmental organization which was founded by two AUN alums while they were in their final year.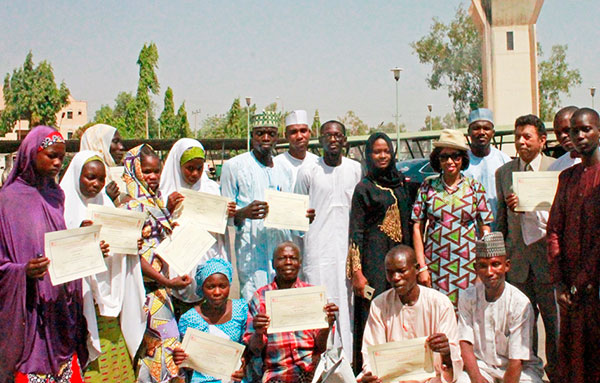 On January 19, the organization graduated 10 more displaced persons (IDPs) who have just completed their 24-week basic ICT training.  Altogether, 495 people have benefited since the inception of the program.  The training was held in collaboration with the Speaker of Adamawa State House of Assembly, Hon. Kabiru Mijinyawa.

At the certificate presentation at the Adamawa House of Assembly, Mr. Haruna Hamman Furo, Permanent Secretary of the Adamawa State Emergency Agency (SEMA), said he was impressed with the work of the NGO.   He said that the organization is being considered with others for assistance in view of the work they do for the IDPs in the state.  "I assure you within the next two weeks, one of you will get something on ICT to start with."

President of NILF, Mr. Khalifa Usman, explained that the 10 IDPs are students who had not finished their training in November last year when 280 trained IDPs graduated from the program.

Mr. Usman thanked the Speaker for the support he is rendering to the IDPs through their NGO.  He said that this support, which came last year, has helped motivate the IDPs through their training.   

Hon. Mijinyawa congratulated the trainees for completing the program and encouraged them to use the knowledge gained for their personal and community benefit.

Two AUN Professors, Dr. Jennifer Tyndall and Dr. Brian Reed, also attended the event.  Dr. Tyndall thanked President Ensign for the role she has played in fostering AUN's development philosophy, citing AUN's community projects as well as the dedication exemplified by the founding President of NIFL.  

By Omorogbe Omorogiuwa