In the Youth Entrepreneurship Boot Camp of January 16 to 20, SBE recognized the achievements of two successful entrepreneurs.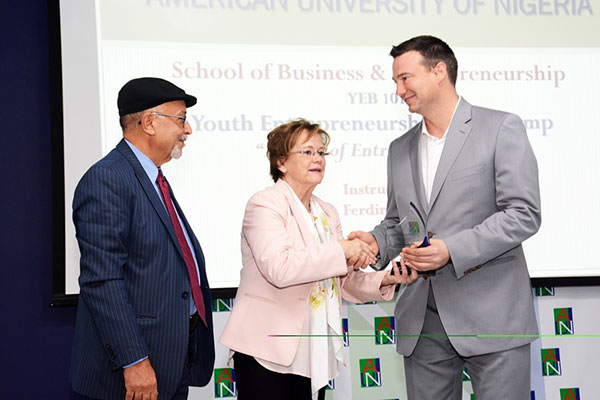 Mr. Jon Eberly, CEO of Clock Four in Silicon Valley
They were the keynote speakers at the program who were given Lifetime Entrepreneurship Awards.

One of the inspirational speakers is from Nigeria and the second is from Silicon Valley. These successful entrepreneurs inspired the young participants at the Boot Camp with their presentations.

Mr. Austin Okere, the founding Chief Executive Officer and Managing Director of Computer Warehouse Group Plc, broadened the participants' perspective through his mentoring and capacity development skills. CWG is a pan-African systems integrator with operations in Nigeria, Ghana, Uganda, and Cameroon. He successfully built CWG to become the largest security outfit in the ICT sector on the Nigerian Stock Exchange.
Mr. Austin Okere, CEO and MD of Computer Warehouse Group


Mr. Jon Eberly, the founding Chief Executive Officer of Clock Four in Silicon Valley, California, was the second speaker who received the LifeTime Entrepreneurship Award. Mr. Eberly has a track record of entrepreneurship, technical innovation, and leadership in the IT industry. He brought to the Boot Camp his expertise in modern marketing systems with creative brands, thoughtful user-centered design, and insight-driven strategy.  

Before founding Clock Four, Mr. Eberly was VP of Account Services at Agency.com, overseeing clients such as Visa, Safeway, and Del Monte.  He also was a principal at a digital imaging studio, Sandbox Interactive, where he worked with Gap, Inc., Levi's, and Apple.

"Our guest speakers not only have donated their time and traveled to Yola by covering their own travel costs, they also promised to support AUN's development projects," said Dean Ahmad Hosseini of SBE,  Mr Okere who was very pleased with AUN's development university mission instantly awarded an annual scholarship to the best Computer Science graduate from the University to study in CWG Academy.  Mr Eberly visited a village in Adamawa he is helping with solar technology deployment.

The Dean explained that the Lifetime Award was in recognition of the recipient's valuable contributions to the society, for promoting entrepreneurship in academia and in practice.  Their citations read in part that these individuals have, "...consistently provided encouragement, support (physical or intellectual resources), time, talent, and mentorship to fostering entrepreneurship in education practice and other avenues."

About 200 youths from seven secondary schools in Adamawa State were selected to benefit from the week-long boot camp. Participants learned both the theories and practices of financial literacy, business fundamentals, leadership, and communication skills required to run a successful business venture.

President Ensign, who formally opened the program, emphasized the importance of exposing youths to entrepreneurship at an early age. Dr. Ensign said Nigeria is rapidly growing and there is need to train people who would create jobs for the increasing population.  "I want you to leave this event thinking, 'I am going to create jobs'."  

She also added that not many high school students in Nigeria are, "...so so privileged to be here today listening to people who are leading the change in the world in technology and innovation. Seize that opportunity; make sure that you make the very best of it."

By Omorogbe Omorogiuwa