As the University's maiden Entrepreneurship Boot Camp came to a successful end on January 20, excitement lit up the faces of participants. 
Intermittent applauses resounded through the Commencement Hall when each winning group at the event received prizes.  There were three categories of the competition: product development, business simulation, and reflection essay.

All 200 participants formed 40 groups, were made to create a product, and pitched their ideas to investors who were given dummy currency ($BE dollars) to invest in any product of their choice.  The group with the highest amount of money from investors won the product development competition. 

The star award for product development went to the group that developed a car that runs on solar energy and gas.  Group 35 had "$BE105, 000" as the winner. 

The business simulation awards went to the first three groups that generated the highest amount of profit while creating and running their own micro-businesses.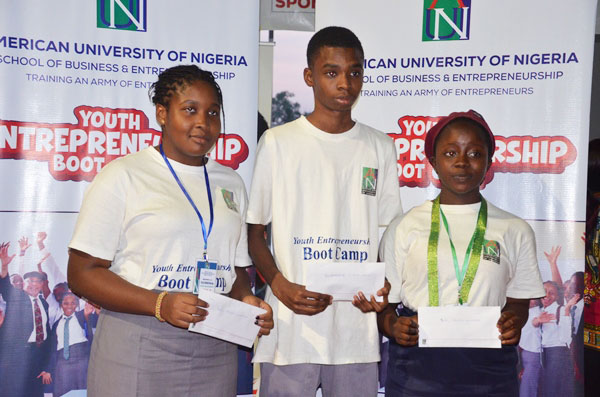 Cash awards went to the participants who emerged top three in the Boot Camp Reflection Essay Competition: Adamu Aminu Kolere of Ahmadu Ribadu College (winner, N25, 000), Vera Franklin of Deeper Life High School (second place, N15, 000), and Sadika Dahiru Gomina of AUN Academy (third place winner, N10, 000). 

Addressing the participants, President Ensign said, "It's a privilege to have you on our campus. When you think about your future, our mission as a university is to create young people like you who have good ideas, who can work together, who can solve problems."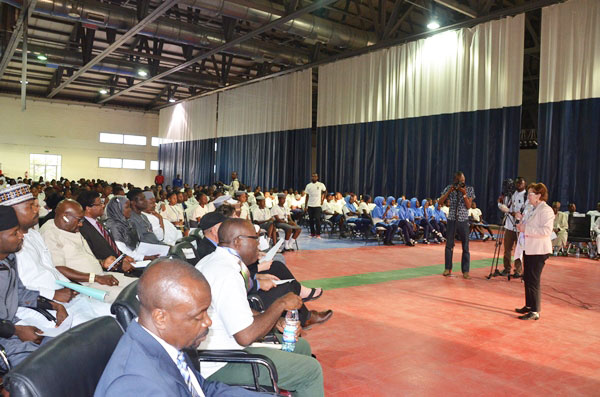 Dean of SBE, Dr. Ahmad Hosseini, also addressed the gathering, which included sponsors of the five-day event.  He said his primary mission of being in Nigeria is to help train an army of entrepreneurs.

Recognizing that more than half of Nigerians are under the age of 30, Dr. Hosseini said that there is every need to ensure that young people in the country have the tools needed to create jobs to help uplift the entire population.  He described the participants as the next generation of business and community leaders.

The participants were exposed to a curriculum that provided financial literacy and business fundamentals. They were inspired by two successful entrepreneurs:  Mr. Austin Okere, the founding Chief Executive Officer and Managing Director of Computer Warehouse Group Plc, and Mr. Jon Eberly, the founding Chief Executive Officer of Clock Four in Silicon Valley, California.

The students learned how to work as a team, how to think outside the box, how to market their products,  and how to convince investors to provide funds to produce and sell their products.

At the ceremony, the Dean recognized the invaluable contributions of Dr. Ferdinand Che, the Associate Dean of SBE, and Mr. Reginald Braggs, the Assistant VP of the Foundation Program for their leadership and dedication in planning and executing this pioneering Boot Camp. The Dean presented each of them with the Distinguished Award for their contribution to entrepreneurship education.

By Omorogbe Omorogiuwa