On February 6, a cast and crew from Kannywood was on a tour of the University facilities, guided by the Assistant VP of Public Affairs, Mr. Abba Tahir.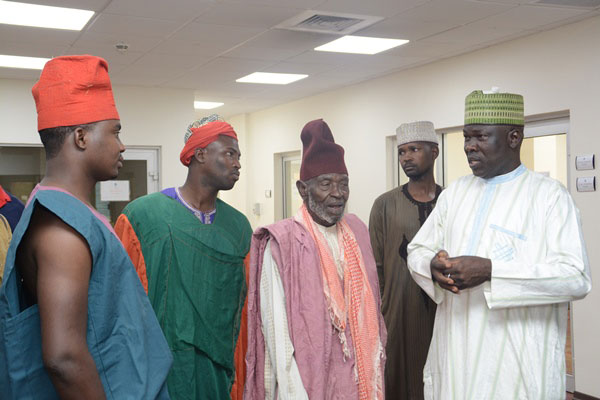 The presence of the leading figures of the burgeoning Hausa film industry on campus thrilled students who recognized them as popular characters.
Ms. Fatima Abdullahi and Faridah Haruna, both final-year students in CMD and Information Systems, respectively, said they were amazed to see their favorite Hausa moviemakers.  "I have been watching him right from when I was young," said Ms. Haruna of Abdullahi Shaibu whose stage name is Karkuzu.  
Mr. Shaibu, for his part, expressed amazement when he heard that that there is a seamless transition to the generator in the event of power outage on campus.
AVP Tahir told the guests that it was not just the 24/7 availability of power that the University community enjoys, but also a strong round-the-clock Internet connectivity.  Mr. Tamuimu "Alhaji Alhaji" Akawu, who has acted for both Kannywood and Nollywood, was among the visitors.  He acknowledged that the facilities he met at AUN far surpassed his expectations.  
Among the things that impressed the crew were AUN's small class-size and video conference rooms where students can receive live classes from distant  professors.  They also learned of the University's development projects that are being coordinated through the Atiku Center for Leadership, Entrepreneurship, and Development.
Mr. Al-Amin Buhari, an artiste, remarked that he had never seen a campus as large as AUN.  It is already the talk of the campus that Kannywood may be keen on shooting scenes on location at AUN.


By Omorogbe Omorogiuwa