Valentine's Day is celebrated around the world, a day people show love to those around them.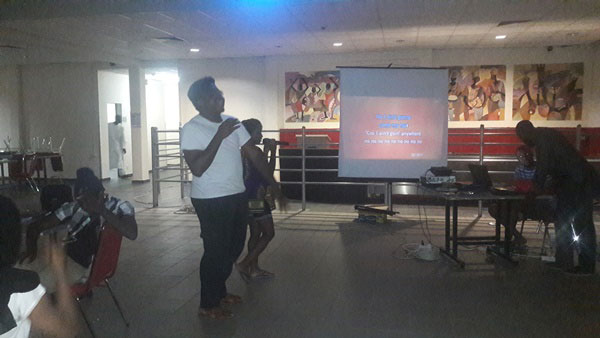 The AUN campus was no less a celebration ground, as everyone participated in one activity or the other to show love.
During Valentine's week, on February 17, the Office Student Activities & Involvement organized a healthy competition in the spirit of love; it was a first Karaoke competition.  Other karaoke events in AUN have been free for all, where students came to sing their favorite songs to the crowd just for fun.  This was a little different:  prizes went to the best karaoke performers.
Eight contestants competed to win.  They were judged on energy, stage presence, voice, and ability to carry the crowd.  Initially, the contestants had to go through three rounds; however, because of the technical challenges, which took up most of their time, they had to settle for only two rounds.  The first-round competitors had to sing songs from R&B/Pop genre, after which four were eliminated. In the second round, the contestants had to do a duet with anybody from the crowd.
In the end, first place winner Chijioke Eche got a speaker, second-placed Ross Hart received headphones, and the third-position winner, Melody Abia, was rewarded with a carton of Indomie.
Ms. Fumbi Cole, a junior in Communications and Multimedia, and Campus Activities Board Vice President, observed that "The crowd was moved by the performances as they knew most of the songs. They sang along, at some point brought out their phones, and turned on the torches.  It was very engaging."


By Ebiuwairo Uwagboe, CMD major (intern)