A new driver in the Facilities Management Department, Mr. Mahmud Babajo, has brought his creativity to his work.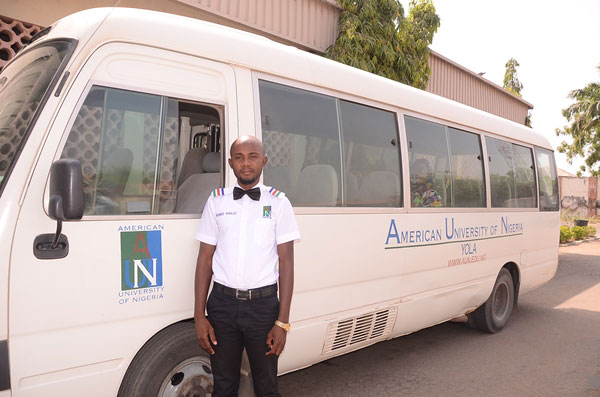 In December of last year, Mr. Babajo, encouraged by the Transport Unit Manager Kenneth Chukwu, redesigned his driving outfit.
Babajo told us that before joining AUN, he always admired drivers of reputable banks and companies even while he was desirous of working for AUN.  He had always believed that should he get to work at AUN, he would add value beyond expectations.  "We all have a duty to make AUN the best University in Africa by contributing our individual quota."
Mr. Babajo said he bought a new shirt, contacted his tailor/artist, and told him to emboss the AUN logo on one side of the shirt, with Transport Unit under it, and then his name on the right.  "He charged me; I paid."
The great compliments Babajo has received are well worth the money he spent for the design, he says.  "I can't quantify the satisfaction it gives me.  My supervisor told me, 'Well done.  Keep it up.' Everybody says I'm looking good."
In less than four months on the staff of the University, he says that through this action, he is gaining the popularity of a celebrity.  "Some are even calling me pilot."
Mr. Babajo recounted how he was assigned to pick up volunteers from the airport for the new students' orientation.  "Students and staff members, including the senior management, were impressed by my outfit."
Before his formal employment, Babajo had been a volunteer for three years working with the AUN-API Peace-Through-Sports program where he was an unofficial referee and coordinated matches.  He facilitated peace-building workshops for sportsmen and women.  "It was just the passion I have for football and to work for AUN because I saw that the University was genuinely helping people a lot."
Mr. Babajo added that he was one of those who benefited from the free ICT training of AUN-API.  Besides football, he loves reading and doing research.  A man who has sought out training and a varied career, he was a teacher for over four years with ABTI International School, Yola, where he taught Hausa and Islamic Studies.  Mr. Babajo obtained the National Certificate in Education in 2010 from Adamawa State College of Education, Hong, and in preparation for his work at AUN, he attended Citimax Driving School, Jimeta, in 2015.


By Omorogbe Omorogiuwa